The nation today celebrates the birth anniversary of one of the philosophers and great thinkers, whose thoughts continues to inspire generations-- Swami Vivekananda. Born in January 12, 1863 his thoughts and teachings motivated the young people and brought a spiritual awakening in the 19th century, which still reigns and will always be in the future. Swami Vivekananda Jayanti is also observed as National Youth Day to imbibe the students and youth with the philosophy and ideals of Swamiji. Like every year, in 2019 too, many activities will be organised on Vivekananda's 156th birth anniversary across India that includes speeches, youth conventions, fests, seminars, yogasanas, recitations, competitions and many more. Many individuals continue to keep his famous poignant and inspiring quotes in mind while maintaining their day to day activities. Swami Vivekananda's Iconic 1893 Speech in Chicago: Watch Full Video & Audio of the Historic Address at the Parliament of World's Religion. 
Swami Vivekananda was born in an aristocratic Bengali family in Calcutta. From his early age, he was deeply indulged into studies and was influenced by the Indian mystic and yogi, Ramakrishna, who taught him life lessons. After Ramakrishna's death, Swamiji toured the Indian subcontinent extensively and acquired first-hand knowledge of the conditions prevailing in British India. In 1893, Vivekananda represented India and Hinduism at the Parliament of the World Religions. On his 156th birth anniversary, we have compiled some of his famous quotes and his best life lessons.Best WhatsApp Stickers, Messages, GIF Image Greetings to Send Across on 156th Birth Anniversary of Great Influencers.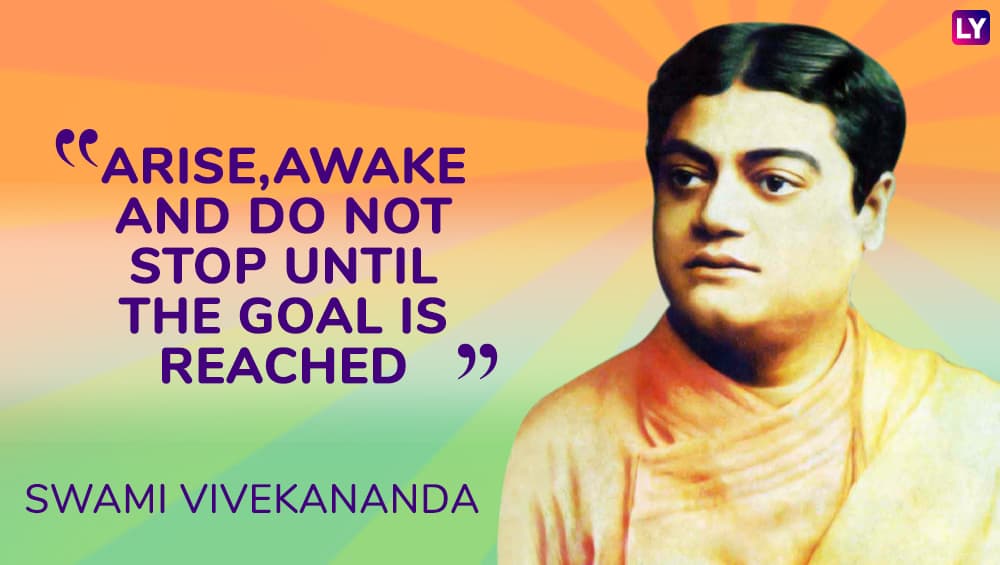 "Arise,awake and do not stop until the goal is reached." Swami Vivekananda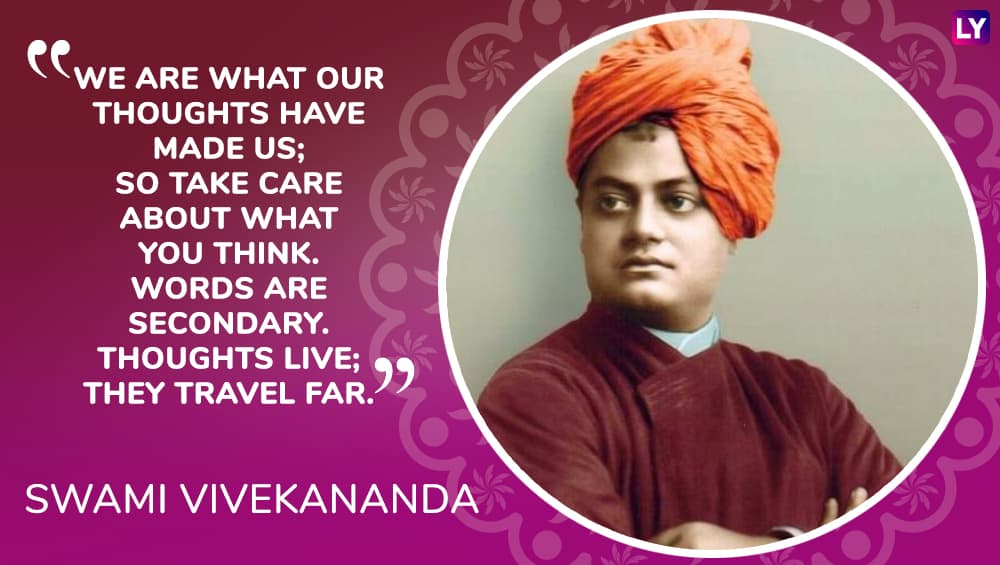 "We are what our thoughts have made us; so take care about what you think. Words are secondary. Thoughts live; they travel far." Swami Vivekananda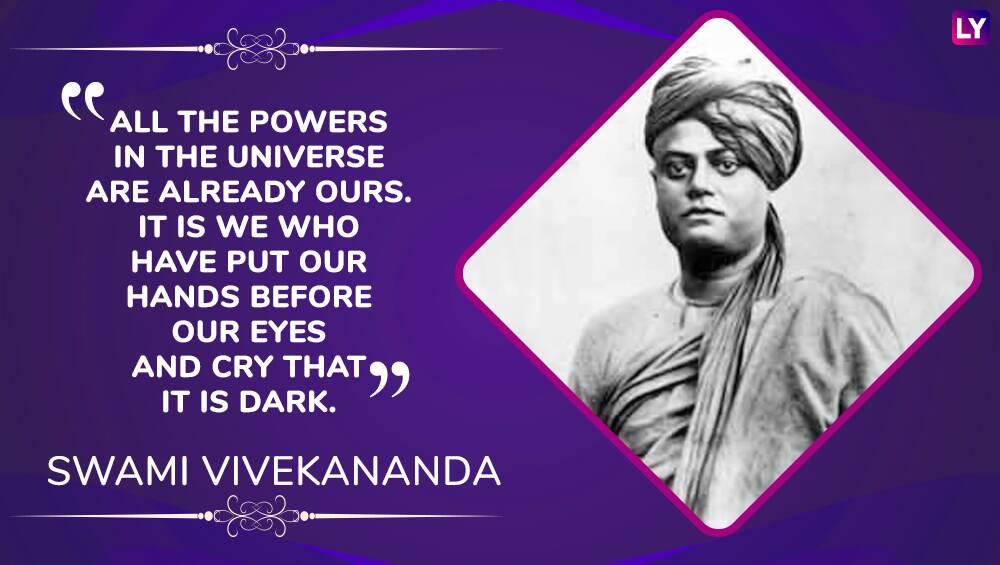 "All the powers in the universe are already ours. It is we who have put our hands before our eyes and cry that it is dark." Swami Vivekananda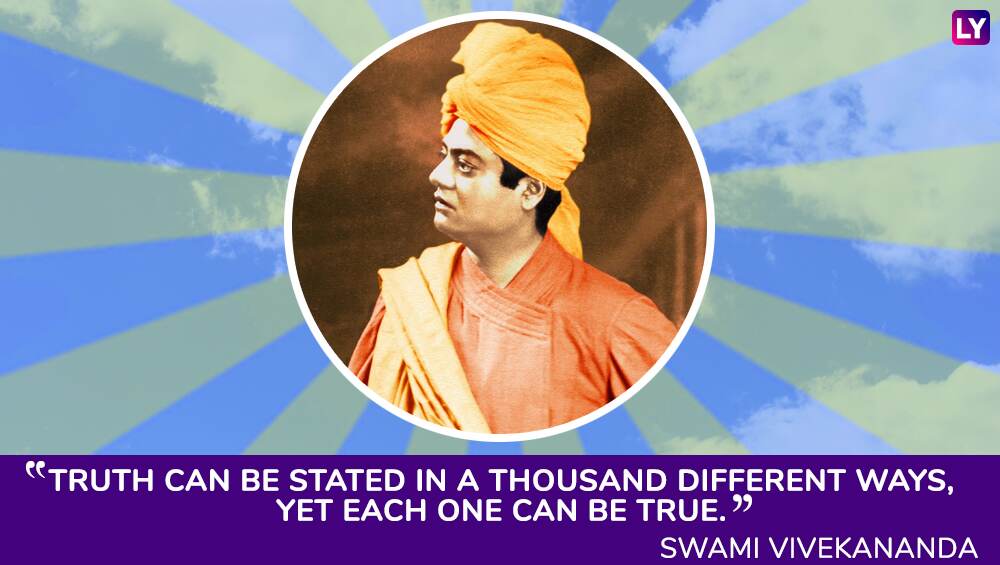 "Truth can be stated in a thousand different ways, yet each one can be true." Swami Vivekananda
"You have to grow from the inside out. None can teach you, none can make you spiritual. There is no other teacher but your own soul." Swami Vivekananda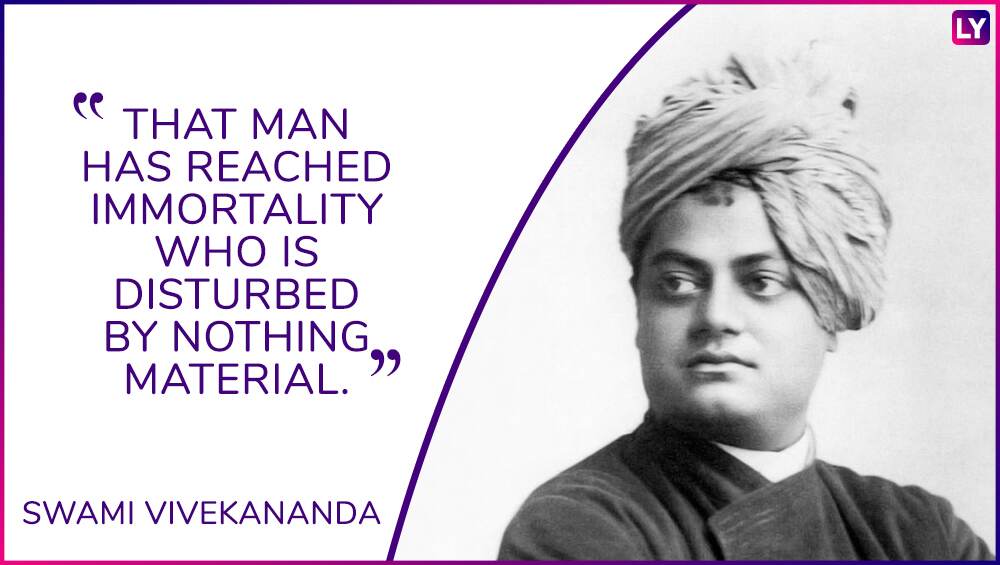 "That man has reached immortality who is disturbed by nothing material." Swami Vivekananda
Swami Vivekananda is not just any name in the history, but he is one of those people who taught India how becoming selfless and inclining towards spirituality that makes one attain a successful life. His tireless efforts to spread the word of brotherhood and to make the country a better place to live will continue inspiring the youth of today and future generations.
(The above story first appeared on LatestLY on Jan 12, 2019 09:57 AM IST. For more news and updates on politics, world, sports, entertainment and lifestyle, log on to our website latestly.com).