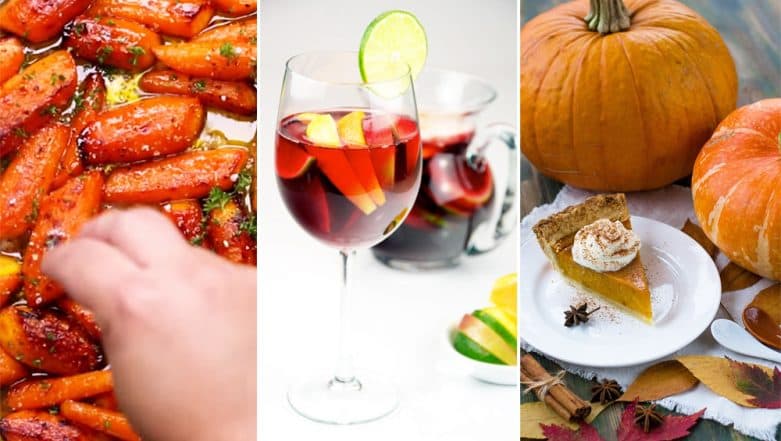 It is all holiday feels in America with the arrival of the winter season. One of the important celebratory occasion of Thanksgiving 2018 is on November 22, Americans are awaiting the big family feast. Each family makes it a point to come together, cook scrumptious food items, sit around a lovely cooked turkey and be grateful to each other. From parades, watching a game of football and family get-togethers, the Thanksgiving holiday is a wonderful time of the year. Preparing turkey stuffed with bread crumbs, vegetables and other yummy stuffing is the main highlight of Thanksgiving but there are other side dishes, desserts, coolers and starters that are prepared along with to make it a very yummy feast. If you have been looking for some easy Thanksgiving 2018 recipes other than turkey, let us help you out. Thanksgiving Turkey Recipes 2018: From All American To Tandoori, Delicious Roast Turkey Recipes For A Scrumptious Feast. 
Thanksgiving celebrations mark a day to thank for the blessings of the harvest made in the entire year. The feast goes on sometimes for days together. It is a National Holiday which is celebrated on the fourth Thursday of November. Followed by a weekend, the Thanksgiving holidays is all about enjoying a good time with family, close friends and tasting lovely food each day. Thanksgiving 2018: Know Date, History & Significance Behind the Most Awaited Holiday in U.S. 
Some Easy to Make Traditional Thanksgiving Recipes
Honey Glazed Carrots Recipe
Enjoy carrots in a yummy manner by glazing them with honey. They are easy to make and taste delicious and work as a wonderful side for your heavy Thanksgiving dinner. Depending upon your taste preference you can choose between adding ginger, cinnamon or keeping it plain with salt and pepper.
Loaded Mashed Potatoes Casserole Recipe
Looking for a loaded starter option then mashed potato casserole is a good option. A special dish cooked mostly on festive occasions, it makes a yummy addition to the menu. Make sure you have all the ingredients if you plan on making the mashed potato casserole. It may take a little more time to prepare but if you have all the ingredients it will be easier.
Caramel Apple Sangria Recipe
You need to have some drinks or coolers to quench the thirst after the all yummy dinner. Wines and Sangrias are a commonly prefered drink during such dinner. But add a twist of caramel and apple cider to make a lovely Caramel Apple Sangria. Give your guests a delightful feel of the lovely refreshing drink.
Pumpkin Pie Recipe
Any meal is incomplete without a yummy dessert and if you want to stay with the classic, opt for Pumpkin Pie. Pumpkin pie is a preferred dessert made for Thanksgiving. End your scrumptious turkey meal with a soft and yummy pumpkin pie. Don't forget to add some whipped cream twist to it in the end.
We hope these easy recipes help to add to your menu for Thanksgiving dinner. Make sure you have a platter of different tastes to suit everyone. Start with a spicy starter, have some light cooler drinks, the scrumptious turkey of course and a lovely dessert to make it complete. We hope you have a yummy Thanksgiving holiday. Happy Thanksgiving, folks!