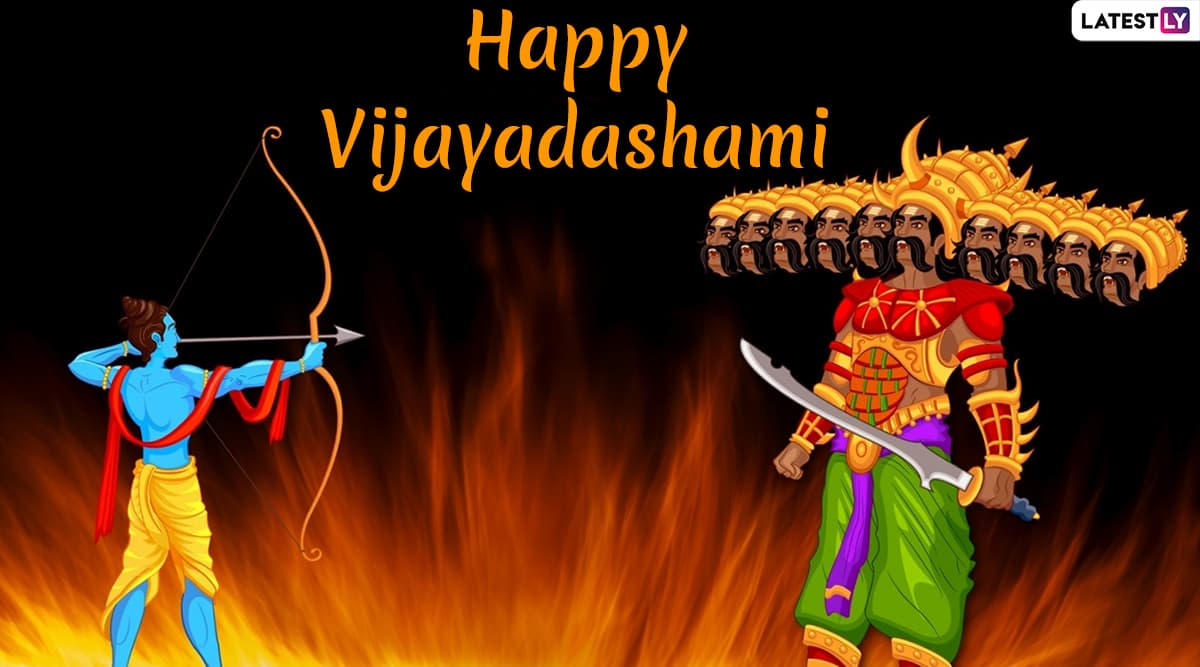 Vijaya Dashami (also spelt as Vijayadashami) is the fifth and final day of Durga Puja or Pujo celebrations. Bengalis traditionally wish each other by saying, "Subho Bijoya." Vijayadashami is also celebrated as Dussehra, Dasara and Dashain in other parts of the country. Vijayadashami 2019 falls on October 8 (Tuesday). Vijaya Dashami, is commemorated after the completion on Sharad Navratri, on the Shukla Paksha Dashami during Ashwin month as per Hindu lunar calendar. People share Vijayadashami images, Dussehra photos, Ravan Dahan images (burning of Ravana effigies) Mahishasura Mardini images, Dussehra WhatsApp Messages, Dussehra 2019 Wishes, Dussehra Images Download, Dussehra GIFs, Subho Bijoya wishes and greetings – all for free download. You will also find details of the app to download Dussehra messages in Telugu, Bengali, Hindi, Marathi and more languages.
The auspicious aartis and pujas around this festival are completed on the ninth day of Ashwin Month (Maha Navami), the tenth day celebrates the victory of Goddess Durga against the terrorising demon, Mahishasur. This day is celebrated as Vijayadashami mainly in Bengal and South India. This day is celebrated as Dussehra in Northern parts of India. It is believed that on this day, Lord Ram also defeated the ten-headed Ravana and rescued Goddess Sita. Vijayadashami celebrations are filled with great pomp and fervour. Dussehra 2019 Date and Time: Vijayadashami Puja Vidhi, Shubh Muhurat and Significance of Dasara.
While we prepare to celebrate this magnanimous festival, let's get our hands on the latest Vijayadashami images, Dussehra images, wishes, greetings, quotes, SMS and more. People love to download photos of Goddess Durga as Mahishasura Mardini. Images of Maa Durga killing the tyrant buffalo demon is a powerful image, which is used by people to wish each other on Vijayadashami as well as set as wallpaper on desktop or mobile. Same goes for Ram Ravan yudh photos and Ravan Dahan pictures. Apart from watching Ravan Dahan (burning of Ravan effigies) live, these pictures are also quite popular among people. This is why we have a collection of Ravan Dahan Images Free Download, Dussehra Ravan Dahan GIF Images, Vijayadashami Images, Vijayadashami Photos and more.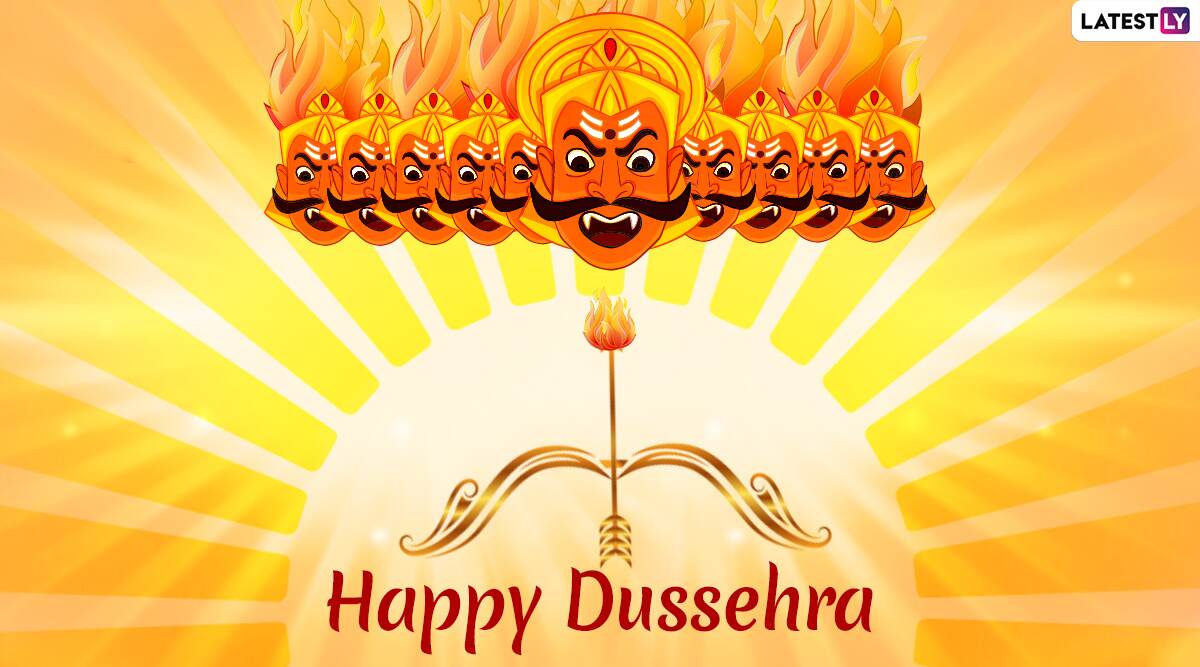 WhatsApp Message Reads: May This Dussehra All Worries, Problems and Obstacles in the Path of Success Get Burned With the Effigy of Ravana. Have a Happy and Blessed Dussehra.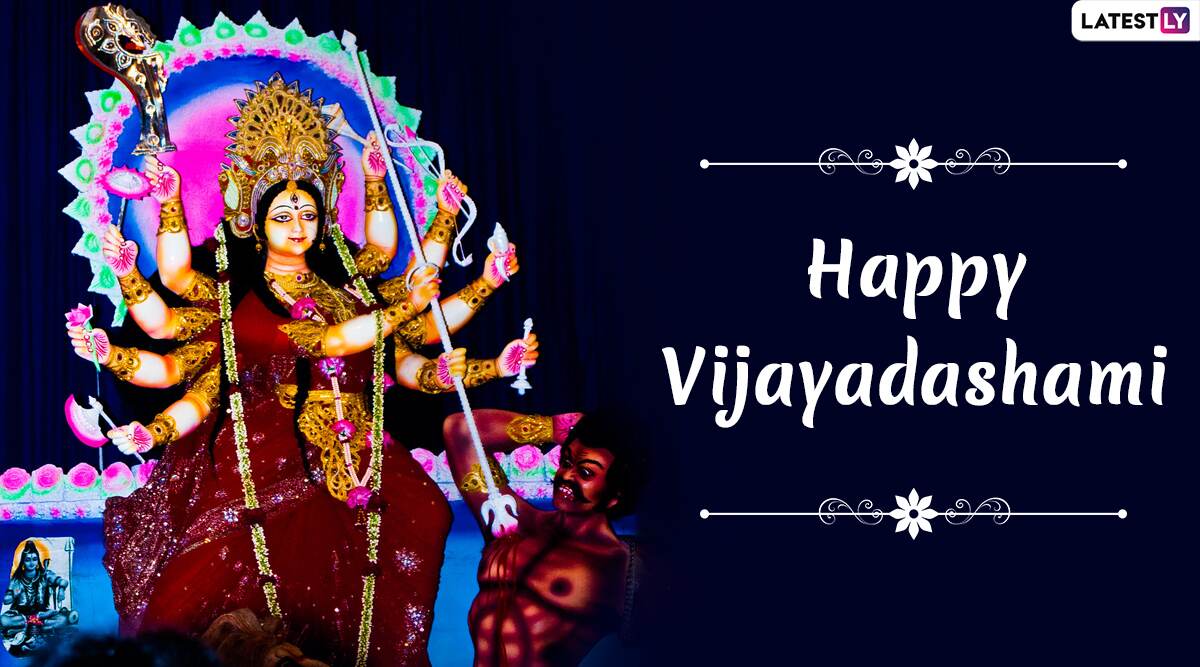 WhatsApp Message Reads: May the Demon in You Always Get Defeated and the Angel in You Always Control Your Thoughts. Have a Blessed Vijayadashami!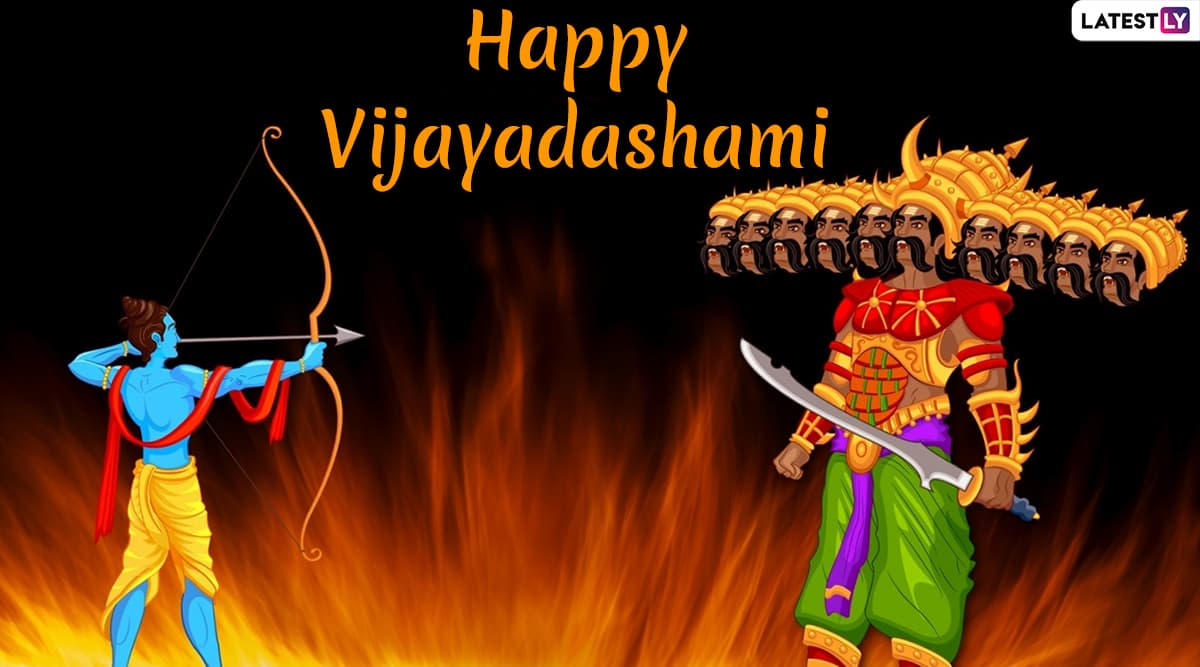 WhatsApp Message Reads: On This Special Day, As U Celebrate Valor & Courage, Triumph of Good Over Evil, Wish You Success & Happiness in Everything You Do. Happy Vijayadashami 2019.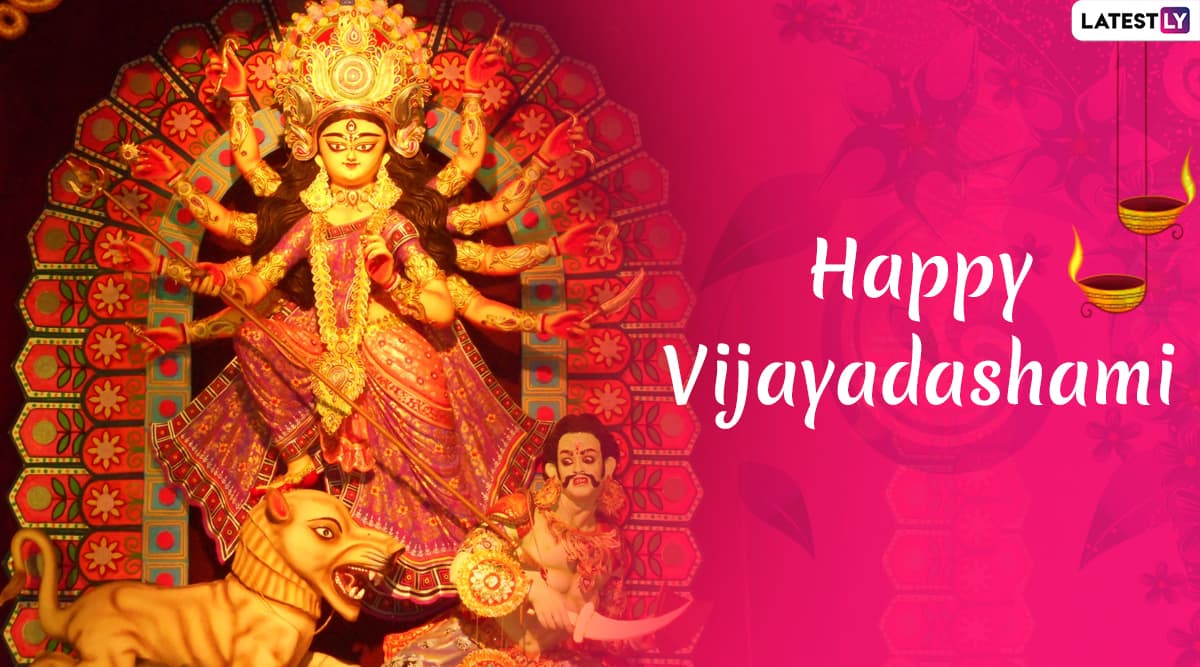 WhatsApp Message Reads: A Time for Celebration, A Time for Victory of Good Over Evil, A Time When World Sees an Example of the Power of Good. Let Us Continue the Same 'True' spirit. Happy Vijayadashami 2019.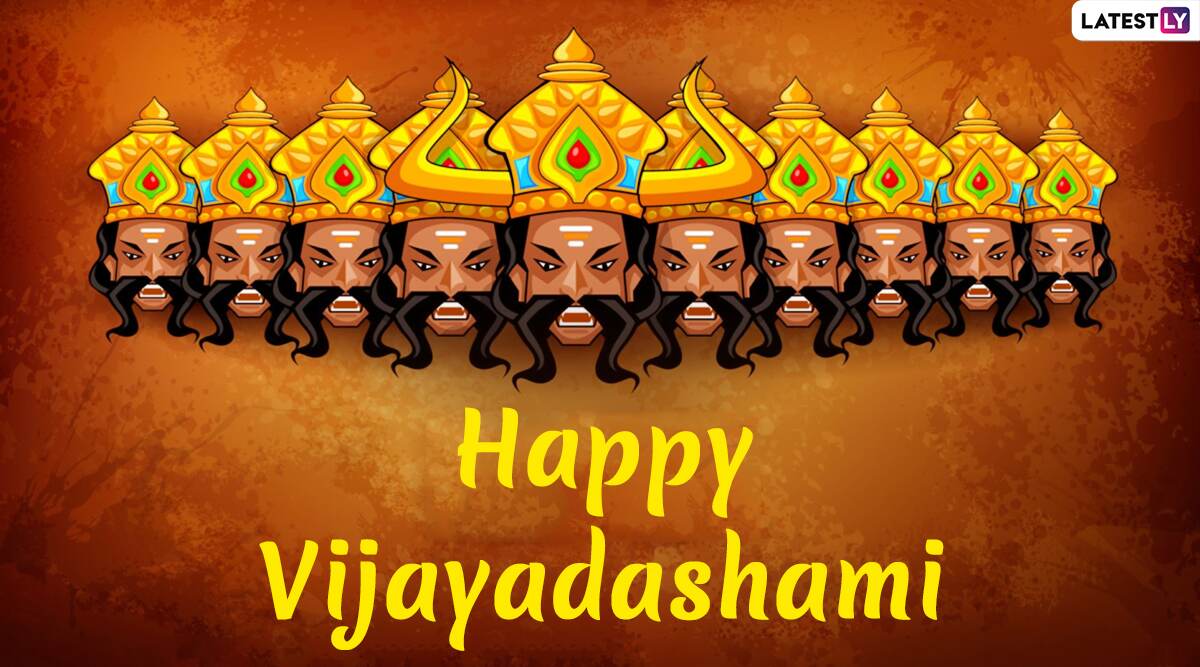 WhatsApp Message Reads: Happy Dussehra to All. May Shri Ram Bless You and Your Family, A Happy, Joyful and Prosperous Dussehra to You and Your Family!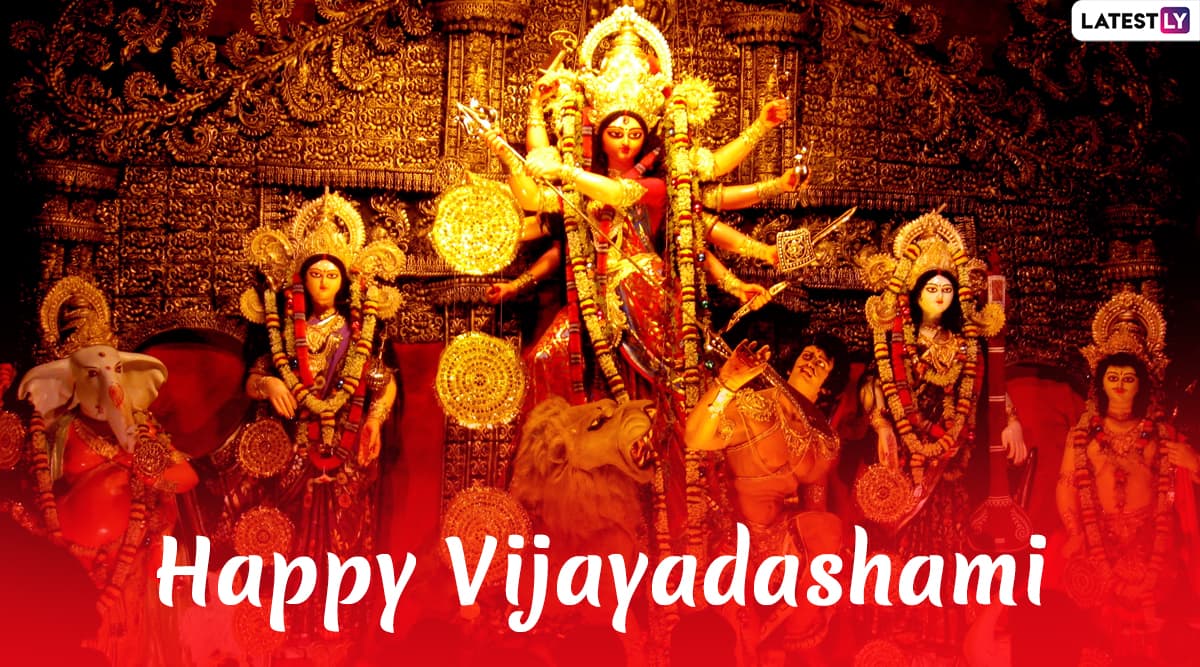 WhatsApp Message Reads: May Maa Durga Bestow You and Your Family With 9 Forms of Blessings – Fame, Name, Wealth, Prosperity, Happiness, Education, Health, Power and Commitment. Happy Vijayadashami 2019.
WhatsApp Message Reads: May Maa Durga Give You the Courage to Fight All Evils. May You Always Be Successful and Happy! Happy Vijayadashami 2019.
WhatsApp Message Reads: May Lord Rama Always…Keep Showering His Blessings Upon You…May Your Life Be Prosperous and..trouble Free Throughout. Happy Dussehra.
How to Download Vijayadashami WhatsApp Stickers?
You can download WhatsApp Stickers for the occasion of Vijayadashami or Dussehra from Play Store app. There are so many festive packs up for download. They include Ravan Dahan photos, Ram Ravan Yudhu photos, Goddess Durga in Mahishasura Mardini avatar. You can download GIF images, wishes and messages in several languages such as Bengali, Telugu, Marathi and more. Here's the link.
Vijayadashmi or Dussehra celebration also marks the beginning of the preparation for Diwali in many homes. This auspicious festival strikes the perfect of religious and mythological fervour, making the festival one of the grandest celebrations every year! Wish you all a very Happy Vijayadashami and Happy Dussehra 2019.