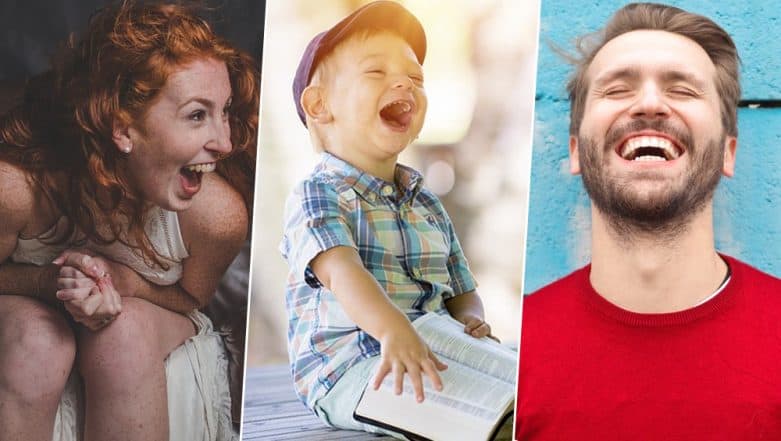 World Laughter Day is observed on the first Sunday of May of every year. The day began considering how positive and powerful emotion can change people and in fact the world. A very popular saying by Lord Byron goes, "Always laugh when you can. It is a cheap medicine." While laughing may not be able to pull you out of a difficult situation, it can lighten your mood and help you sail through the rough patch smoothly. If you are among people do not believe in the power of laughter, we suggest you begin today. World Laughter Day 2019 is being celebrated on May 5. The first Laughter Day was celebrated on May 10, 1998, in Mumbai. The man behind this revolutionary idea was Dr Madan Kataria, founder of the world Laughter Yoga Movement in 1995. Below we will discuss more World Laughter Day and health benefits associated with good and hearty laughter. Alert! Here's How You Can be Caught Fake-laughing.
History
While forming the Laughter Yoga movement, Dr. Kataria worked on the facial feedback hypothesis, according to which, one's facial expressions have a deep impact and effect on one's emotions and feelings. He carried forward the same ideology while initiating the Laughter Day. The celebration of World Laughter Day is a positive manifestation for world peace and is intended to build up a global consciousness of brotherhood and friendship through laughter. Since then, Laughter Day has made its way into the heart of the rest of the world. The first Laughter Day celebrated outside India was in the year 2000 and was called the 'Happy-demic', where more than 10,000 people gathered outside Town Hall Square in Copenhagen, Denmark. It was the largest ever gathering that laughed and bonded together and the event went into the Guinness Book of World Records. People Without Plans to Change Stay Happy: Study.
Celebrations
The main purpose of celebrating this day is to promote international laughter and to create awareness about its healing benefits through Laughter Clubs. Dr. Kataria once said, "When you laugh, you change and when you change the whole world changes around you." Laughter Yoga showed an exponential growth and became popular worldwide. It has resulted into 6,000 laughter clubs worldwide in 105 countries. People from different walks of life celebrate World Laughter Day with great enthusiasm crossing all social, professional and personal barriers.
Different laughter clubs organise special programmes on this day, which includes mass laughter session, peace rallies, blood donation camps, free BP and diabetic tests, etc. Members of the laughter clubs across the world gather a public place along with friends and family members. Messages by Dr. Kataria are also read and dance and laughter programmes are also held.
Benefits of Laughter Yoga
Laughter Yoga is a powerful cardio workout and just 10 minutes of hearty laughter is equal to 30 minutes of the rowing machine.

It increases blood circulation, reduces blood pressure, antidote for depression and reduces stress.

Laughter Yoga can change a person's mood because it releases certain chemicals from your brain called endorphins.

Laughter boosts up the production of anti-body producing cells in our body, making the T-cells more powerful and creating a stronger immune system.

Laughing exercises are good for facial muscles. It is said that if you laugh a lot, when you get older your wrinkles will be in the right place.
A burst of good and hearty laughter is all we need when we face challenges. Laughter helps in giving a more positive outlook towards difficult situations. To celebrate World Laughter Day, you can catch up with your friends and discuss all the funny memories you'll have shared together or watch a funny movie with your family. Use this day to the fullest and starting from today, make it a habit of smiling more and spreading happiness around you. Happy World Laughter Day!