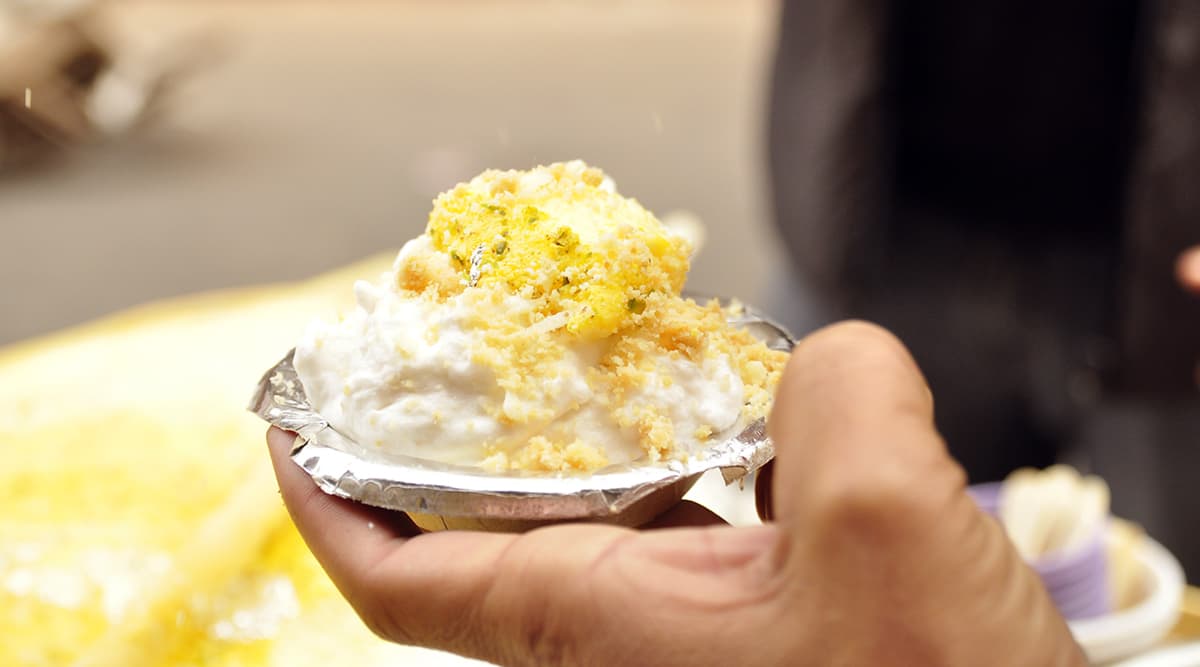 Delhi is known for his delicious roadside chat items. And one just cannot make a trip back without relishing on some local chat. Actress Priyanka Chopra posted a picture of her enjoying the delicious Daulat ki Chaat, a famous local delicacy. And while the name says Chaat, it is actually a dessert. The delectable dish is known for its sweet flavour. Made with milk and cream it has an extra garnish of dry fruits and nuts. While Priyanka Chopra's dessert also had an addition of Rs 500 notes by the side, this dish is rich in nutrients too. And if her post has made you curious, then we give you a recipe of how you can make this Daulat ki Chaat at home. Priyanka Chopra Posts a Pic with Delhi's Popular Dessert 'Daulat Ki Chaat', Trolls Confuse It for Real 'Daulat' (See Pics).
Daulat Ki Chaat is typically found in Old Delhi, the Chandi Chowk region. The Muradabad family of two brothers are the ones who made this delicacy. The dish is especially available during the months of winter. Those who have stayed in Delhi would know the creamy goodness of this dessert and if you are already craving some, then you can make it at home too. We tell you how.
Ingredients
1 ltr whole milk

250 ml heavy cream

1 teaspoon cream of tartar

2 tablespoons caster sugar

Few saffron strands mix with 2 tablespoons milk

2 sheets of edible silver (varq)

2 tablespoons chopped pistachios

1 tablespoon finely ground pistachios
Method
Combine milk, cream, cream of tartar, in a large bowl. Refrigerate this mixture overnight.

Add the caster sugar, some saffron strands and whisk it with a blender.

Remove the froth and keep it aside. If there is any milk accumulated, take it aside and whisk the mixture again.

Take out all the foam in a bowl and add some sheet of varq over it.

Add some ground pistachios along with other chopped nuts. You can also add rose petals for extra taste.

If you want to serve it cold, then refrigerate it for a while and then serve.
Watch Video of How to Make Daulat ki Chaat at Home:
While the prep time for this recipe is barely 15 minutes, one must do proper aeration while blending. Scooping out the froth is also a careful task. You can also refrigerate the froth for a while before you make the final dressing or prepare it and then refrigerate. One of the ways of garnishing this dessert is using fake notes for the richness or Daulat as it says in the name. We hope you enjoy this special dessert from the local streets of Delhi.