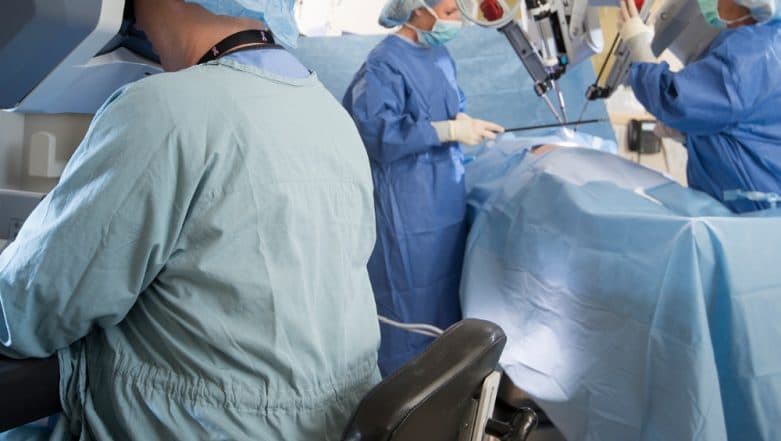 For the first time in medical history, a doctor will perform a complicated stenting surgery sitting 30 km away from the hospital. The cardiologist Dr Tejas Patel is set to perform the world's first telestenting cardiac surgery today on December 5, 2018. While the actual surgery will happen at Apex Heart Institute, the doctor himself will be seated 30 km away at Akshardham Temple in Gandhinagar, Gujarat. Dr Patel will operate the computer that will control the robots performing the surgery. According to a report by News18, the surgery will also be overseen by state cabinet ministers Vijay Rupani and Nitin Patel.
Stenting is the process through which a tiny tube made of metal mesh is inserted into the passageway of a blocked artery to keep it open. Through the robotic telesurgery, Dr Patel will use a console to control a robot who will carry out the surgery at a distance.
The Padmashri Award-winning Dr Patel was in the news in January 2018, for having carried out a robotic angioplasty. He is credited to have introduced vascular robotic technology in India. Apex is the only other place apart from the US where the technology is available. The doctor will be using Corpath – GRX CorPath, a second generation robotic-assisted system. This is the only robotic system in the world, which is capable of coronary angioplasty. What is a 'Silent' Stroke? Know Its Causes, Symptoms, Treatment and Preventive Measures.
Robotic surgeries are considered more accurate than the manual ones for a simple reason – human hands have some limitations that robotic hands don't. According to Dr Patel, the human hand can work only with 10mm precision, while a robotic hand has 1mm precision. With the right amount of human intervention, robots can perform the surgery more precisely than surgeons can, ensuring minimum damage to the organ itself. Indian Stents Are As Good As the Best Ones in the World, Says New Study.
Fifty-seven surgeries were conducted, and only six surgeons had to intervene directly. So far, all the robotic surgeries were performed by Dr Patel in the vicinity of the hospital. For the first time, he will be seated 30 km away and carry out the operation. The operation was slated to have started at 3 PM today.
In an interview with IANS back in January, Dr Patel told reporters that the new technology would make Indian a frontrunner in robotic surgery, with almost zero failure in angioplasty and stenting.