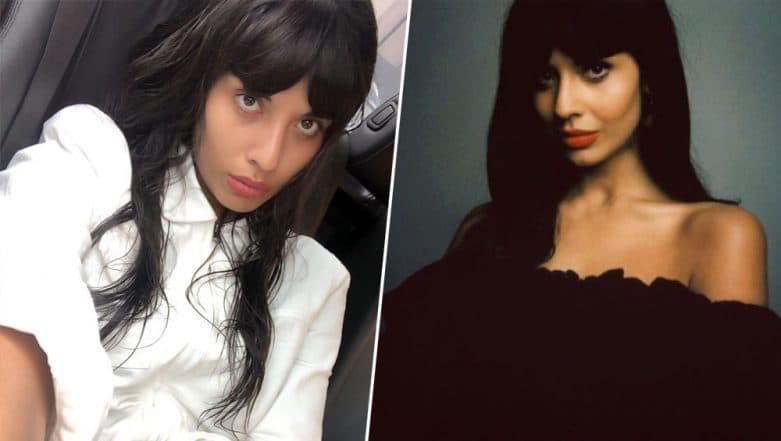 Jameela Jamil has been making headlines for speaking her mind about relevant societal issues like body image and shaming. The Good Place star has spoken about the scars on her body this time. The outspoken activist shared a new Instagram post on Tuesday where she talked about her medical conditions and the resultant scarring. Jameela revealed in her post that she has severe eczema because of which her legs are usually covered in scars. She wrote, "I have such severe eczema all over that my legs are covered in huge patches of pigment loss from scratching. I have a tonne [sic] of stretch marks, and because I have Ehlers Danlos Syndrome, *every* time I cut, I scar. I *refuse* to have these normal human marks weaponised [sic] against me."
The Instagram photo was actually a screenshot of a recent Tweet by Jameela, and she used her Instagram caption as a chance to take down companies selling body makeup. She said, "Seeing more and more companies sell *always marketing just at women* make up that is for your body, to cover all your "flaws." This is a nightmare for your clothes, furniture, bedsheets, bank account, especially if you are tall or curvy, as you need so much extra, it's time consuming to put on and take off. It clogs pores, can make some skin conditions worse and is based on a Photoshop ideal of a woman." Kim Kardashian Introduces Body Makeup by Covering Up Psoriasis on Leg, Gets Trolled for Promoting Unrealistic Body Standards.
Take a look at her post:
What is Ehlers-Danlos Syndrome?
A group of skin disorders,  Ehlers-Danlos syndrome affects the connective tissues supporting skin, bones, blood vessels, other organs and tissues. Various signs and symptoms of this disease are caused by the defects in connective tissues. They can range from mildly loose joints to life-threatening complications. There are various forms of Ehlers-Danlos syndrome.
They have been classified into 11 forms of Ehlers-Danlos syndrome based on Roman numerals to indicate the types. For example, type I, type II, and so on. however, the classification was updated to include rare forms of Ehlers-Danlos syndrome that were discovered more recently.
What is Eczema?
Dermatitis is long-lasting (chronic) and tends to flare periodically. Often, it appears in infants in the first year of birth and progresses till five years of age and, at times, even beyond. It leads to inflamed and itchy skin, resulting in patches of red and dry skin. The condition may worsen during colder months. Often, as the child enters teenage, the skin condition persists, affecting daily activities.
Skin conditions like eczema often lead to a lack of self-confidence, thus impacting the overall personality development.