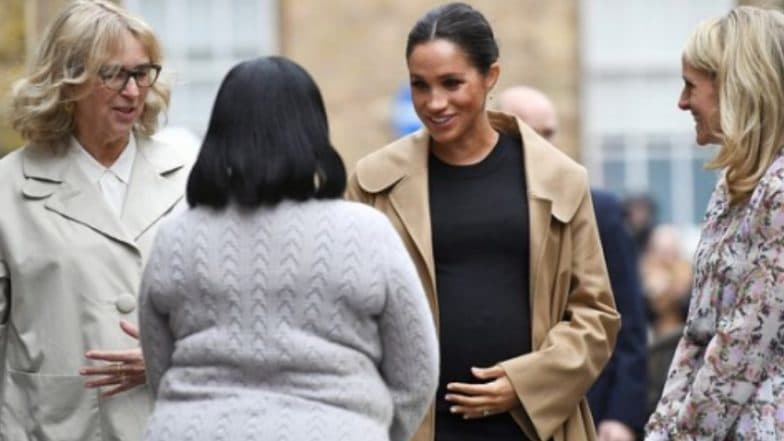 After weeks of speculations, Meghan Markle's due date has been revealed. The one to spill the heavily guarded secret was The Duchess of Sussex herself. Meghan, 37, revealed to her well-wishers that she is six-months pregnant, while she was on a walk. She and Prince Harry are visiting Merseyside town, making this their first royal engagement together post their wedding. There is no statement issued by the Kensington Palace yet but as per reports, Meghan has confirmed that she is due to give birth to the Royal Baby near the end of April. Meghan Markle Just Broke Another Royal Protocol by Painting Her Nails Black at British Fashion Awards.
The brief exchange with the locals took place when Meghan and Prince were out for a walk. A Daily Mail report also suggests that Meghan said that she and her husband did not know the sex of the baby and wanted it to be a surprise.
"We asked her how her pregnancy was going and she said she was six months and she tapped her tummy,"  well-wisher, Carla Gandy, told PEOPLE.
Kensington Palace had released a statement in October 2018 revealing the news about Meghan's pregnancy. They had only mentioned that her due date is in Spring of 2019. Priyanka Chopra - Nick Jonas Invite Meghan Markle For Their Los Angeles Reception - Read Details.
Back then, Meghan's good friend Priyanka Chopra had reacted excitedly to the news. "I would, as a friend, just say that I'm really excited for her," she told People magazine at the JBL Fest.
"I think this is a new phase in every woman's life, and I hope hers is as amazing as she wants it to be," added the actress who had also attended Markle and Prince Harry's royal wedding in May.