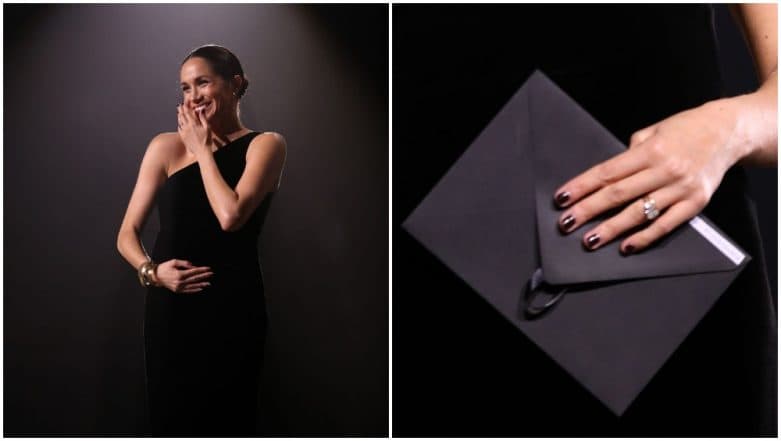 Meghan Markle is a rebel and there's no better way to frame this. While the other royal members strive hard to follow their age-old protocols, the newest member is willing enough to break them one at a time. From closing her own car door to wearing a sling bag, the Duchess of Sussex has been only following her heart at the expense of offending certain royal rules. While the above-mentioned instances may sound legit, the recent one is a tad weird honestly. Yea the former Suits actress is making headlines for opting a black nail polish to go with her #OOTN. Told ya! The reason is definitely WEIRD! After Priyanka Chopra, Her Friend Meghan Markle Targetted with a Salty Article Calling Her 'Ruthless Social Climbing Actress'.
Meghan Markle made a rather surprising appearance at British Fashion Awards that were held recently. While her one-off shoulder black velvet Givenchy gown was definitely a show stealer, it was her black nail polish that grabbed eyeballs for all the wrong reasons. Since royal members aren't allowed to paint their nails in any dark colour, Meghan broke a protocol by picking a colour as solid as black. According to Queen Elizabeth, anything coloured or even fake nails aren't cool. In fact, it's vulgar. While most girls love to explore this gothic colour when it comes to their nails, royal family members aren't allowed to explore the scenario. Prince Harry - Meghan Markle Get New Address! To Move Out of Kensington Palace to Frogmore Cottage in Windsor, Here's the Reason Why.
Even Meghan was strictly following the code until her recent appearance. Take any of her past outings and notice the colour on her nails. It would be either light or extremely pale and nude. Of course, the occasion demanded her nail colour to match with her outfit and being the rebel that she is, she didn't hesitate to ask her make-up artist to paint it black. But on a serious note, we think her move can be forgiven. Since the winter is already here, she should be allowed to experiment with the colours of the season.