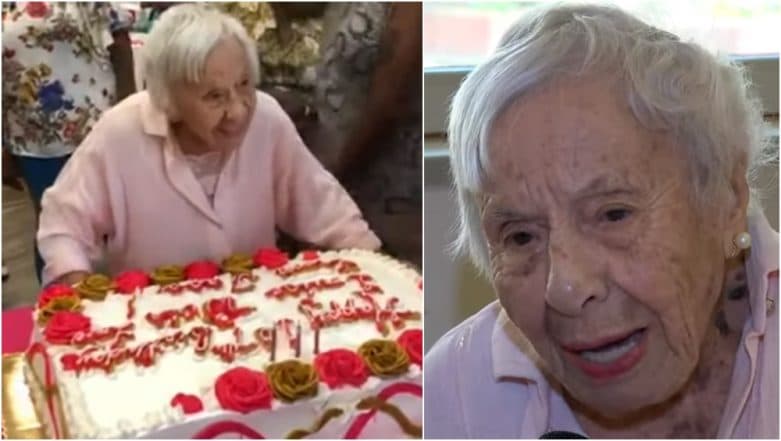 Louise Jean Signore from the Bronx in New York recently celebrated her 107-years-old birthday. More than 100 friends and family members came together to throw a special party for the woman. Louise was born on July 31, 1912, in Manhattan and moved to the Bronx in 1926, and has been living there ever since. And on being asked the important secret to her long life, she said that it is 'never getting married'. Louise celebrated her birthday party at the Bartow Community Center in Coop City. Her 106 birthday also made it the headlines during which she said that 'being single' is the secret to her longevity. World's Oldest Man, 113, Dies at His Home in Northern Japan.
WCBS quoted Louise as saying, "If they have exercise, I do the exercise. If they have dancing, I dance. I still do a little dancing. After my lunch, I will play bingo, so I had a full day. I think the secret of 107: I never got married. I think that's the secret. My sister says, 'I wish I never got married.'" Born in Harlem, Louise has always proud of her Italian heritage. While young she used to dance daily and can also play bocce. She says being less stressed helped her in live longer than her counterparts. She still lives alone and likes it. Oldest Person on Earth? Bolivian Woman Julia Flores Colquea May Claim at Age of 118.
Check Out Pictures of Her Birthday Celebration Below:
God bless this amazing woman who is 107 years old today! Big party with her friends and family in the Bronx. Lots of keys to living so long — including eating Italian food, dancing, and she emphasized never getting married 😂💕 pic.twitter.com/YJUD9iD5s2

— Jessica Layton (@JLaytonTV) July 31, 2019
Check Out Louise's Birthday Party Below:
She also credits good home-cooked food, fruits and vegetables, avoiding soda and cake coupled with exercise in maintaining good health. The centenarian was dressed in a light pink colour for the birthday celebration. New York Post reported that her mother lived until 97 and her three brothers — including a set of twins —  died in their mid-90s. Her father lived upto 79. Currently, 114-year-old Alelia Murphy holds the record for being the oldest living woman in the United States. Murphy lives in Harlem in New York.