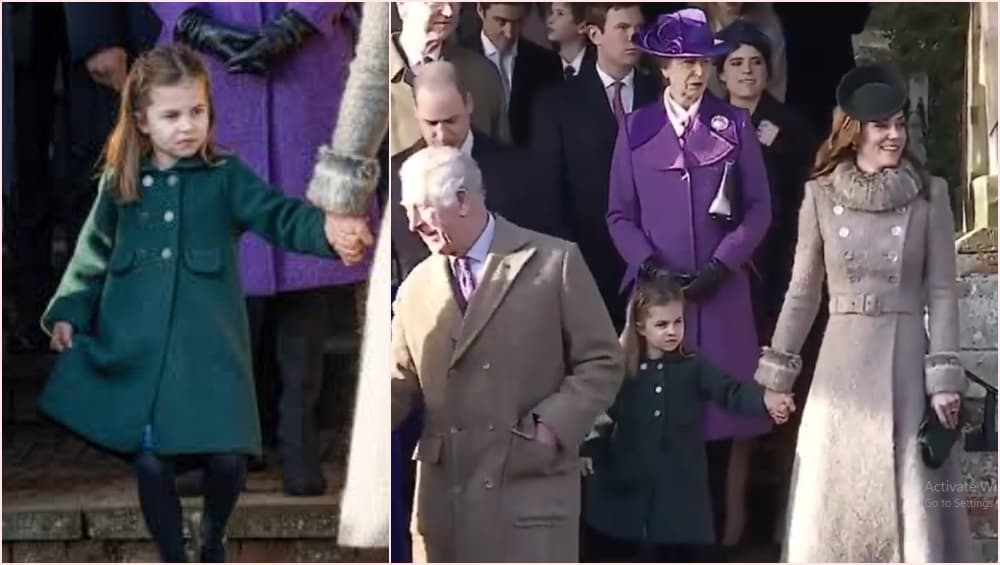 Christmas 2019 was an exciting day for the royals. Prince George and Princess Charlotte made their debut at the Sandringham church. Usually, the mini royals stay at home on Christmas Day, but their parents, Prince William and Kate Middleton, decided to dress them up for a visit to the church. The kids looked adorable as they walked to St Mary Magdalene Church with their parents and other members of the family. Everything from their visit surfaced on the internet. But Princess Charlotte stole the show. The sweetest moment was when Charlotte gave a royal curtsy to Queen Elizabeth II on the steps of Sandringham. She shyly copies mom Kate as she bends her knee, slightly. Fans are gushing over the adorable video that is making rounds on the internet. Kate Middleton Captures Candid Moment of Prince William With Kids George, Charlotte and Louis. 
Until this year, the royal kids have remained at home whenever William and Kate attended the service in Sandringham. Prince Louis was not an attendance this year, as he is just 19-months-old. Following their parents and members of the royal family, the kids waved at the public who had gathered to catch a glimpse of the Queen and her family as they walked the morning church service. Princess Charlotte's First Day at School! Kensington Palace Shares Adorable Video of the Royal Tot Arriving at School With Kate Middleton, Prince William and George. 
The sight already melted hearts of people online. Prince George wore a dark blue blazer and jumper, while Princess Charlotte chose an emerald green court. But the four-year-old Princess Charlotte stole all the limelight as she innocently curtsied to the Queen. Charlotte walked out alongside the rest of her family to wave goodbye to Queen Elizabeth, who left service in a car. She gave the cutest curtsy to her great-grandmother. How adorable! People just cannot get enough of her sight. Some rightly noted that little Princess is so well mannered!
Watch the Video:
Okay but Charlotte's curtsied to the Queen! OMG! So cute! Her momma didn't first but she did it and she did it like a true Princess! she held her coat and curtsy! So freaking cute! pic.twitter.com/jUlEUd67X1

— Isa (@isaguor) December 25, 2019
Fans Are Gushing Over Her Cuteness!
Yes, she did!! & what a magnificent curtsy it was!!

— RPD 🇺🇸🇮🇹🇭🇺🏴󠁧󠁢󠁳󠁣󠁴󠁿🇬🇧🇩🇪 (@rpd0319) December 25, 2019
Sure, She Is!
She is so well mannered.

— Bellarossy (@Bellarossy4) December 25, 2019
Praises Everywhere!
Princess Charlotte is so adorable. Her polite curtsey to the Queen is don with such grace. There are no lack in manners to the Queen. The Duke and Duchess of Cambridge are raising very polite young royal children and it shows. Merry Christmas to the Royal family!

— Tracy (@WentzelTracy) December 26, 2019
Yes, the clip is beyond adorable! After the sweet goodbye, the little royal greeted well-wishers waiting outside St Mary Magdalene Church. Every time Princess Charlotte steps out, she gives too many moments for fans to go aww over and over again. And her recent gesture to her great-grandmother, fans got their best Christmas treat.