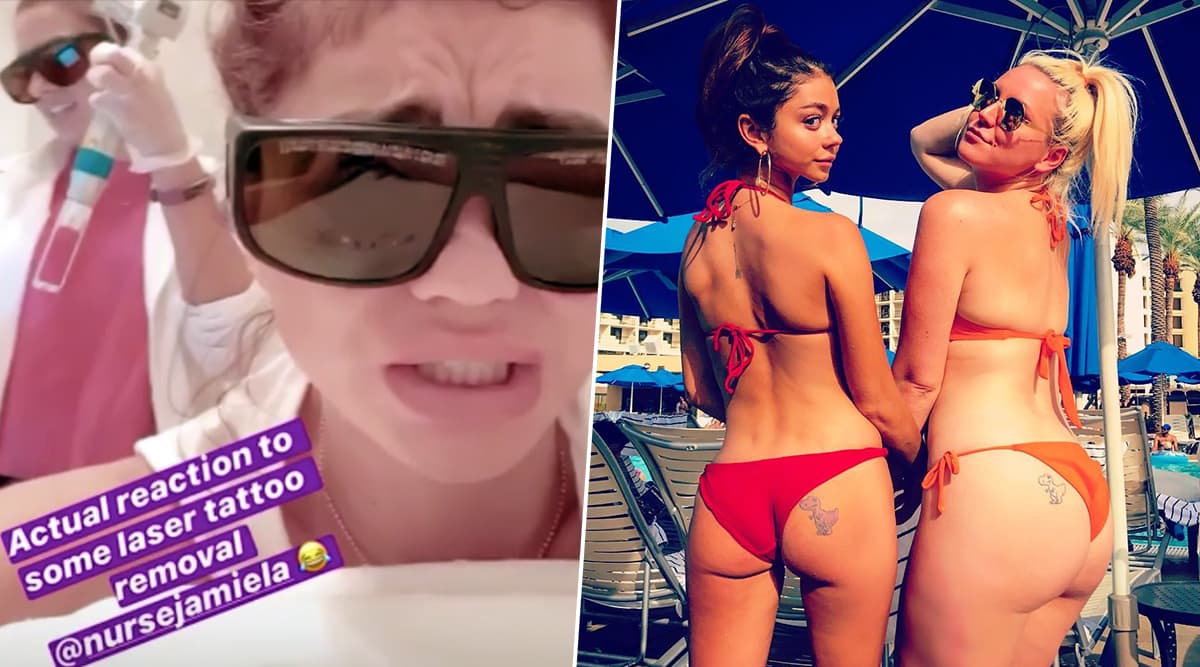 The beautiful Modern Family Star, Sarah Hyland shared on Instagram stories how painful it was for 28-year-old to get her butt tattoo removed.  She shared a small video of herself lying in a doctor's chamber, while you can see a medico with a laser machine behind her. She can be seen wearing protective glasses and has a painful expression all over her face. She captioned the clip she posted on Instagram stories with, "Actual reaction to some laser tattoo removal," she captioned the Instagram clip. She could be heard saying, "Oof…that hurt. Spicy". The pain could be clearly felt through her expressions. It is understood that she was getting her butt tattoo removed by the position where the doctor was standing.  Sarah Hyland had a purple dinosaur tattoo on her butt that she got along with her best friend, Katie Welch. The two got inked in 2017. They even shared a picture donning bikinis poolside and flaunting their dino tattoos. Apart from this the actress also has a tattoo of an arrow between her shoulder blades.
Check Picture:
View this post on Instagram
Hyland recently posted a picture of herself with her fiancé and other friends where Adams can be seen grabbing her breast from behind while Sarah can be seen making goofy expressions. However, her fans didn't quite take the picture in a good spirit and called her out. Sarah Hyland posted the picture herself on her Instagram with a cute caption which means the action didn't make her uncomfortable, but fans didn't quite like it.
View Pic:
Laser tattoo removal typically does involve some level of pain. That said, many say that it hurts less than they expected. It's a common belief that tattoo removal is excruciating, yet most patients say that the sensation of removal is comparable to having a tattoo applied.