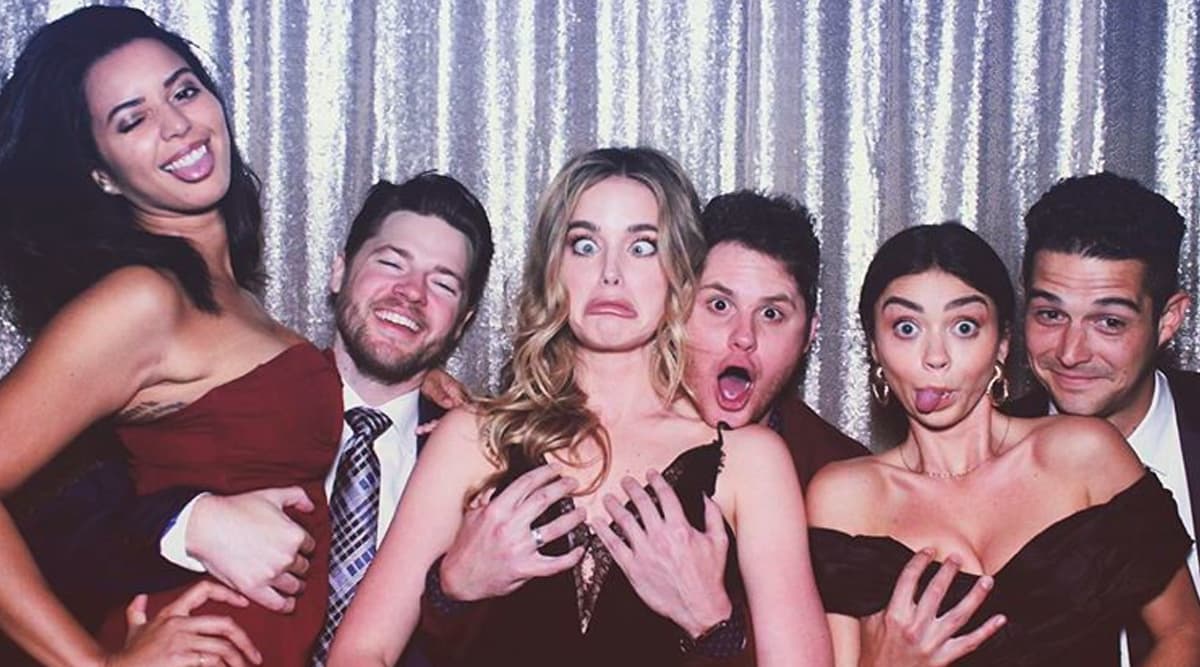 Sarah Hyland and her fiancé Wells Adams are surely couple goals. They are not just so much in love but have often taken Instagram by storm. However, now the Modern Family star has found herself under the judgemental scanner of her fans. Hyland recently posted a picture of herself with her fiancé and other friends where Adam can be seen grabbing her breast from behind while Sarah can be seen making goofy expressions. However, her fans didn't quite take the picture in a good spirit and called her out. Although, it is pretty clear that there was no violation of consent going on around there because, Sarah Hyland posted the picture herself on her Instagram with a cute caption. However, some people even pointed out that probably consent wasn't considered. Sarah Hyland Hilariously Stuffs Her Bra with Tissues While Her Boyfriend Wells Adams Shuts His Eyes, Watch Video. 
Hyland's fiancé, Bachelor in Paradise star Wells Adams and her other friends have somewhat posed in a similar fashion and the picture quite looks like goofy shenanigans happening, but she wasn't spared by her fans criticising her in the comments section.  She captioned it, "We take wedding photo booths very seriously... #mcm to the men who love and treat their ladies like queens."
Even the caption doesn't give away any kind of the wrong message however, her fans went ahead to call her out for being a "hypocrite" and giving way to "patriarchal gender relations." Some felt that this was disrespecting to women and that Sarah Hyland shouldn't be promoting it. "In times of gender balance and women's rights and respect, we still see pics like this... we are not moving forward with such mentalities," a comment read.
Take a Look at The Picture In Question:
Well, it is really difficult to say anything in this case, because the picture really doesn't show anything except for a bunch of friends having fun. However, the two have really have given many reasons to go all aww... in the past years. Just last month, Wells Adams spoke about having kids with fiancee Sarah Hyland including kids. Wells Adams recently told Us Weekly that he "would love to have kids, and I'd like to have more than one." "I'm older, I'm the mid-30s, but she's still in her 20s, so I don't think we're there yet. But I think it'll be a thing that eventually happens for sure, added 'Bachelor in Paradise' star.