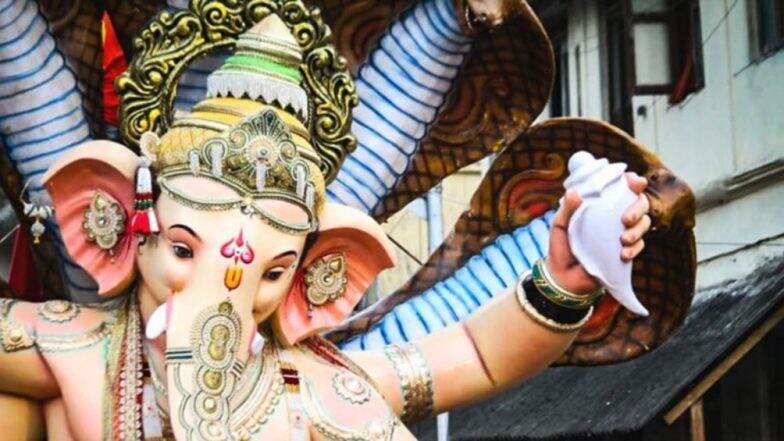 Mumbai's most awaited festival is almost here. During Ganesh Chaturthi 2019, which will be celebrated for 10 days, the city that never sleeps will hear the chant of 'Ek Do Teen Char, Ganpati ki Jai Jai Kar' and 'Ganpati Bappa Morya'. In Mumbai, every lane has its own mandal which celebrate the homecoming of Lord Ganesh. Months of works by sculptors, artists, and volunteers take the shape of magnificent idols. Adding to it, some Ganpati mandals also promote a social cause. Why is Ganesh Chaturthi Celebrated? History, Legends and Stories of the Ganpati Festival.
Most of the pandals have themes with a focus on history. Some replicate the looks of lavish places. While others decide to go simple. This year, many pandals are also going eco-friendly. If you are planning a visit to Mumbai for Ganeshotsav 2019, there here are top seven mandals you must visit. Benefits of Panchamukhi Ganesha Idol & What Each of The Five Heads of Ganpati Represents.
Seven Pandals to Visit During Ganeshotsav in Mumbai:
1. Lalbaugcha Raja Sarvajanik Ganeshotsav Mandal, Lalbaug
Lalbaugcha Raja is considered as a Ganpati who fulfils wishes and the devotees at times spent more than 24 hours in the queue for Charan Sparsh ( Navsachi). Lalbaugcha Raja attracts around two crore visitors every year. Lalbaugcha Raja 2019 First Look Live Streaming Online.
Location: Lalbaug market, GD Goenka Road, Lalbaug
2. Ganesh Galli Mumbai Cha Raja
Located close to Lalbaugcha Raja, Ganesh Gallicha Raja is also Known as Mumbaicha Raja. This Ganesh pandal is known for its unique theme every year. The Ganpati idol design is usually a replica inspired by various temples in the country. How to Reach This Famous Ganeshotsav Pandal of Mumbai By Train or Road.
Location: Ganesh Galli, Lalbaug
3. Goud Saraswat Brahmin Sarvajanik Ganeshotsav Samiti, King's Circle
GSB, King Circle pandal is famous for its gold Ganesh, and always believed in eco-friendly celebrations. The Ganpati is adorned with pure gold ornaments and considered as richest idol in Mumbai. This mandal hosts Ganpati for only five days. How to Reach This Famous Ganeshotsav Pandal of Mumbai By Train or Road.
Location: GSB Sports Club Ground, Near SNDT Women's College, King's Circle, Matunga
4. Chinchpoklicha Raja
Chinchpoklicha Raja is Mumbai's second-oldest Ganpati mandal. Started in 1920, Chinchpokli cha Raja is famous for his sinhasan and beautifully crafted idols. The Ganpati mandal is also famous for its noble cause. Every year, the mandal spends 60 per cent of the money collected on social initiatives.
Location: Dattaram Lad Marg, Outside Chinchpokli station
5. Keshavji Naik Chawl Sarvajanik Ganeshotsav Mandal, Girgaum
Located in Girgaum, this Ganpati mandal is not only the oldest but also the most iconic pandal in Mumbai. This is where Bal Gangadhar Tilak started Ganeshotsav celebration in 1893, in order to continue the freedom struggle against the British. This year the pandal will celebrate their 127th year.
Location: Keshavji Naik Chawl, Girgaum
6. Andhericha Raja
Azad Nagar Sarvajanik Utsav Samiti's Ganpati also known as Andhericha Raja has a reputation of fulfilling the wishes. Established by tobacco workers in 1966, the pandal is celebrating its 54th year.
Location: Veera Desai Road, Azad Nagar, Andheri (West)
7. Fort Vibhag Sarvajanik Ganeshotsav Mandal Circle, Fort
Fort Vibhag Sarvajanik Ganeshotsav Mandal Circle's Ganpati is called as Fortcha Raja, this impressive Ganesh pandal in the South Mumbai is celebrating its 64th year. It is also known as Icchapurti (wish fulfiller).
Location: Dwarkadas Ln, Borabazar Precinct, Ballard Estate, Fort, Mumbai, Maharashtra 400001
The festival dedicated to Lord Ganesh is also famous for food. Modak, sweet sweet dumplings, is said to be the favourite sweet dish of Lord Ganesh. This festival is not only famous in Maharashtra but also in Gujarat, Goa, Madhya Pradesh, Chhattisgarh and Karnataka.