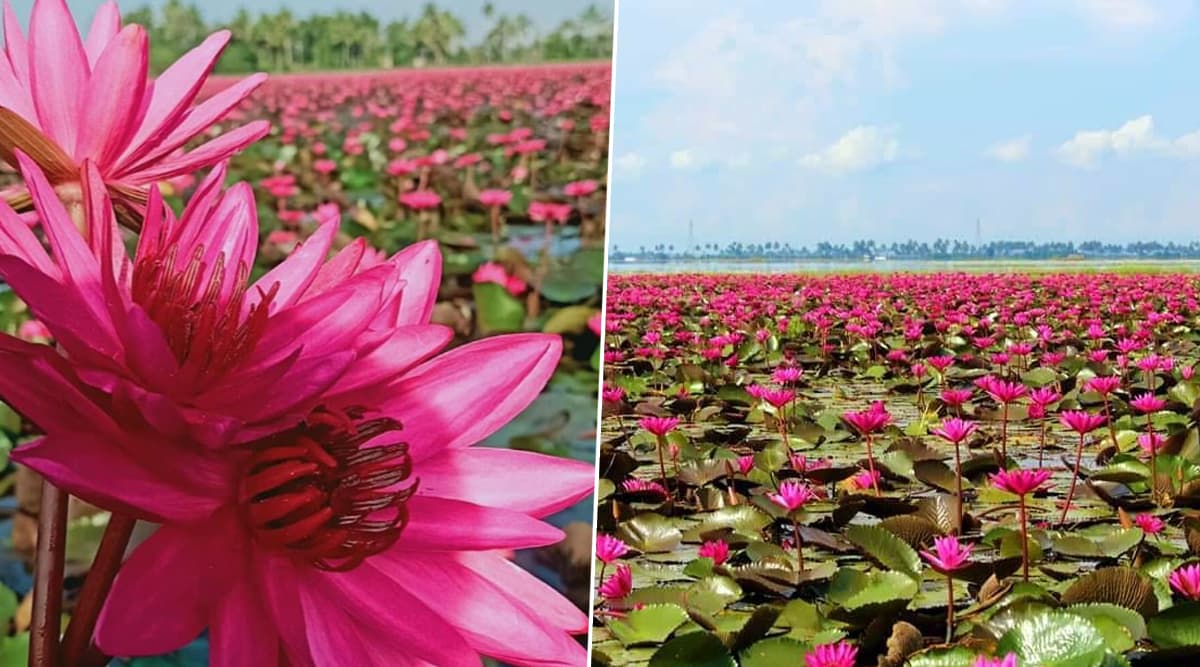 Ambattu Kadavu in Kottayam has been covered in a bright pink carpet making it a sight to behold. Water lilies or better known as Aambal in Malayalam have bloomed in a 100-acre field in Ambattukadavu at Panachikkad in Kottayam attracting nature lovers. A similar spread has been laid near Panachikkadu Saraswati Temple in Malarikkal village on Kumarakom. With the arrival of these pink beauties, Kottayam has become the centre of tourist attraction in Kerala. The place has been receiving tourists not just from the state, but across the country. The stunning flowers bloom in water for six months in a year, but will be weeded out later some time as it is farming land. Shirui Lily Festival 2019 Begins in Manipur: Carpet of Rare Pink Flowers Attract Tourists to Ukhrul Town; Know All About The Annual Event (Pictures And Videos)
Ambal flowers have spread over vast acres of land on both sides of the road in regions of Kottayam. One can take a closer look at the flowers by stepping into the knee-deep waters. Locals also offer to ferry tourists on small boats letting you enjoy the scenic beauty. If you are lucky enough, you can spot ducks paddling away in the water. The rare attraction has also brought together a number of water birds adding to the beauty of the sight. Flower or Bird? Petals of This Flowering Plant Resembling Hummingbirds is a True Reflection of Nature's Stunning Beauty!
Water Lillies in Full Bloom at Ambattu Kadavu:
View this post on Instagram
Stunning!
Malarikkal.

A place in Kottayam which is now famous for this beauty of Nature happens three months every year.

Come explore and enjoy this magic... .

Route-Kottayam-Illickkal-Kanjiram.#malarikkal_village_tourism #kottayam #PINK🌸 pic.twitter.com/qnP6rdls3I

— ഇമ്രാൻ ⭐ (@VishnuAsokan5) October 20, 2019
A Closer Look At The Beauties!
View this post on Instagram
Gorgeous!
View this post on Instagram
A Rare True Experience!
View this post on Instagram
Date With Water Lilies!
View this post on Instagram
Such Gorgeous Flowers!
View this post on Instagram
Let's Go!
It is that time of the year again; Malarikkal is in full bloom.

P.C: Shansil Khan pic.twitter.com/I53DIwU0GK

— Kerala Tourism (@KeralaTourism) October 20, 2019
You can reach Kottayam via Kollad – Puthupally Road or MC Road. Those coming from Chingavanam can drive pass through the Parathumpara junction for two kms and then take right on Puthupally. On left you will see Ambattu Kadavu; the place is also called Eravinallor.