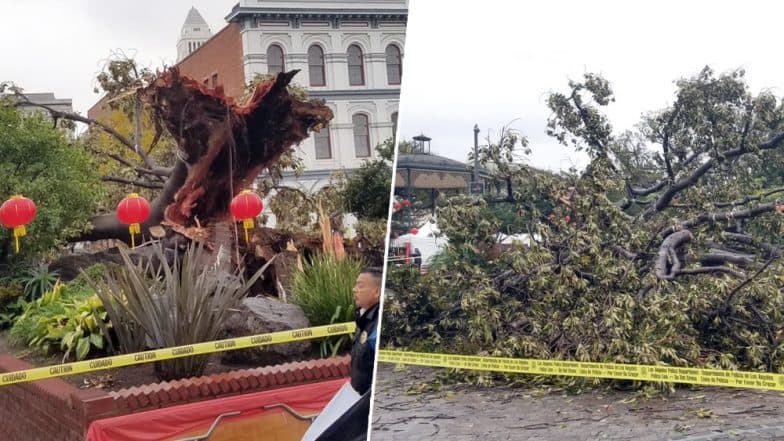 A 144-year-old Moreton Bay fig tree in Los Angeles which was an iconic landmark fell recently due to the change in weather. It was one of four Moreton Bay fig trees that circled El Pueblo de Los Angeles's brick plaza. The tree which was planted during the founding of Los Angeles city has survived generations witnessing rains, storms, winters and all in between. However, it fell breaking from the trunk due to the terrible rain and storm on the west coast, the city saw this year. The incident happened during Chinese lantern festival celebrations on March 3.
As a part of the festivities, there were children and a line of dancers waiting to perform. Decorations include many Chinese lanterns being hung from the branches of the trees. However, in a few moments, the whole tree fell cracking from its trunk. Initially, people mistook the cracking sound to the crackers being burnt for the festival. However, they soon realised it was the old tree that was falling to the ground. Jacaranda Trees Turn Streets of Sydney Into a Purple Haze! See Stunning Pictures of Beautiful Flowers.
Teena Apeles, whose daughter's troupe was to perform at the festival tweeted pictures from the incident.
Check out her tweet below:
It was horrifying to be there when it happened. Our kids were to perform just minutes after it happened. Deeply disappointing that there was not an adequate city response after the incident to address the crowd there, especially with so many people nearby. pic.twitter.com/QGk1n0PtmS

— Teena Apeles (@teenasays) March 5, 2019
Here are pictures of the fallen tree:
@ElPuebloLA @MayorOfLA A massive tree fell at El Pueblo during the Chinese Lantern Festival before my daughter was set to perform. No one was hurt but I was disappointed there weren't any protocols in place to address what could have been a tragedy had the weather been nice. pic.twitter.com/BD2bx68h8u

— Teena Apeles (@teenasays) March 4, 2019
Check out El Pueblo Historical Monument's post:
One of the trees along the brick plaza:
A city councilman planted the trees in 1875 when Ficus trees were brought from Australia to Southern California as ornamental trees for shade. NBC Los Angeles reported that Frank McDonough, a botanist with Los Angeles County, said the trees became unhealthy as the ground below them got cemented. Due to which dry leaves on the ground couldn't get decomposed which otherwise makes the soil fertile. Meanwhile, a city arborist after inspecting surviving trees said that they are in good shape.