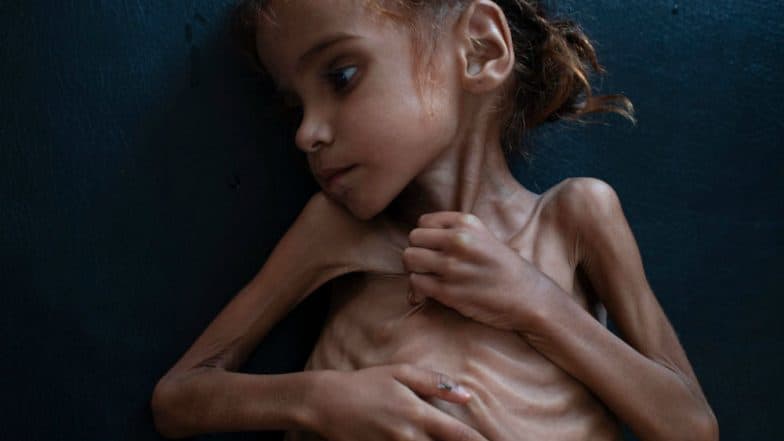 Sanaa, November 2: Amal Hussain, a malnourished girl in Yemen whose famous photo drew the world's attention towards famine in the war-torn country, died on Thursday. Amal Hussain died at a refugee camp. The New York Times published malnourished Amal's photo on a hospital bed, triggering heartfelt responses from people across the world. Many offered financial assistance to the seven-year-old girl's family.
However, even treatment at the hospital could not save Amal. "My heart is broken," her mother told The New York Times. "Amal was always smiling. Now I'm worried for my other children," she added. She was just one of 1.8 million severely malnourished children in Yemen, which is paying the grievous human cost of the Saudi-led war in the country. This Baby at Refugee Camp Offering Food to Journalist Will Restore Your Faith in Humanity in Times of War.
Yemen has been locked into a civil war since 2014 when the Iran-backed Shiite Houthi rebels overran much of the country militarily and seized all northern provinces, including the capital Sanaa. Saudi Arabia is leading an Arab military coalition that intervened in Yemen in 2015 to support the government of President Abd-Rabbu Mansour Hadi after Houthi rebels forced him into exile.
According to UN human rights experts, coalition forces may have committed war crimes in Yemen. Humanitarian organisations say their partial blockade of the country had helped push 14 million people to the brink of famine. The UN has listed Yemen as the country with world's biggest humanitarian crisis, with seven million Yemenis on the verge of starvation and cholera, causing more than 2,000 deaths. (With agency inputs)