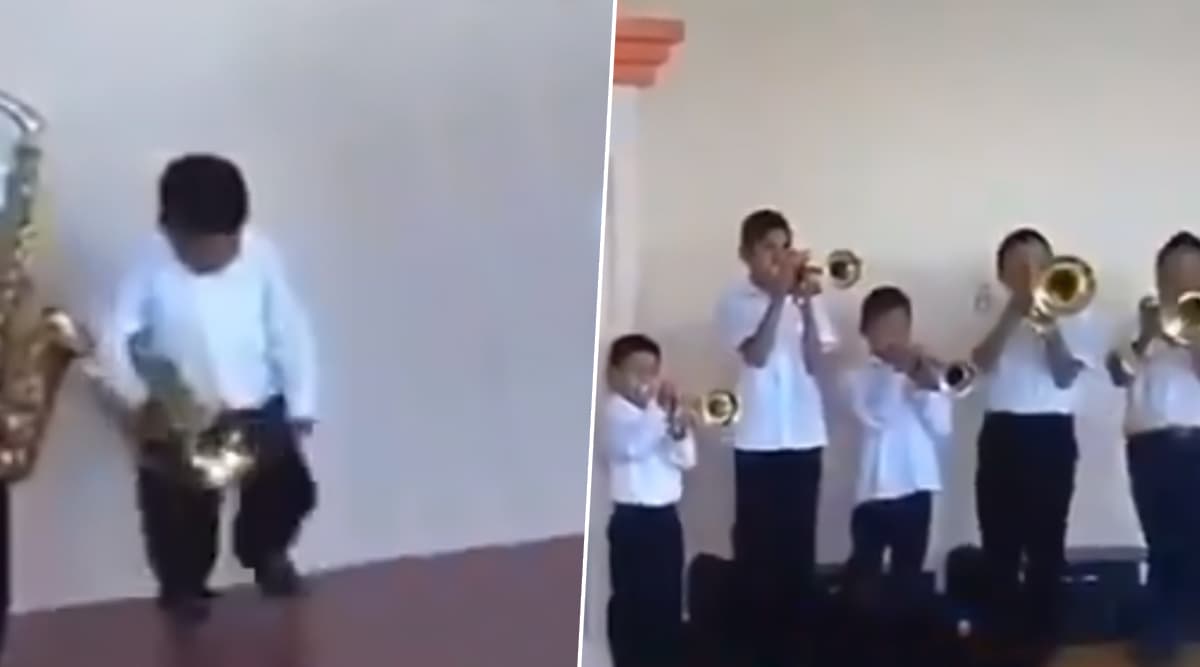 Sure your job is fun! But between the endless meetings on your schedule, you mile-long to-do list and just about never leaving on time, would you say you love it? Probably no! But a slight change in your mood might boost your relationship with work. That is what a toddler is teaching people online. By simply enjoying what he is doing! This kid, while attending his trumpet class, started to show some cool moves, beat-by-beat, showing his classmates how to do it right. Twitter is hailing the cute little boy who accurately sets an example between 'doing' and 'loving' what you do. His adorable video has surfaced on social media sites with increasing views, thumbs-ups, comments and shares. Baby's Cute Rant After Mom Forgets to Give Him Goodbye Kiss Goes Viral, Here's A Look At Other Funny Videos of Toddlers Talking Gibberish!
In the video, the kid can be seen playing the trumpet just how his teacher guides and shaking his legs. His mood is visibly set, when he decides to just hold on to his instrument and enjoy the dance following the beats that his classmates were playing. The other kids in the class appear only to play the trumpet, for the sake of just finishing another course. Just like most of us do, in our work life. Baby Shark Videos With Little Kids Are Going Viral on the Internet and Here Are Some of the Cutest to Make Your Day!
Watch the Viral Video:
Difference between doing your job and enjoying your job. 👇 Life is beautiful #enjoylife #SundayMotivation pic.twitter.com/v4QBlE3sgO

— Ty (@Ty17571380) October 19, 2019
Keeping the funny and adorable idea aside, the video has come up as an inspirational viral tweet. The reason people are comparing the clip with their working lifestyle is that many a time we just tend to finish the responsibility we are given. Just for the sake of doing it. No matter how good things are in other parts of your life, socially, work is a significant part and not be neglected. Since you have chosen to be in the job you are in, you got to make the most of what you do. Of course, in the long term, you can embark on a new career. We understand the hectic bit. But for now, you can get to love more of what you do. This video surely appears as a newfound appreciation for your gig!