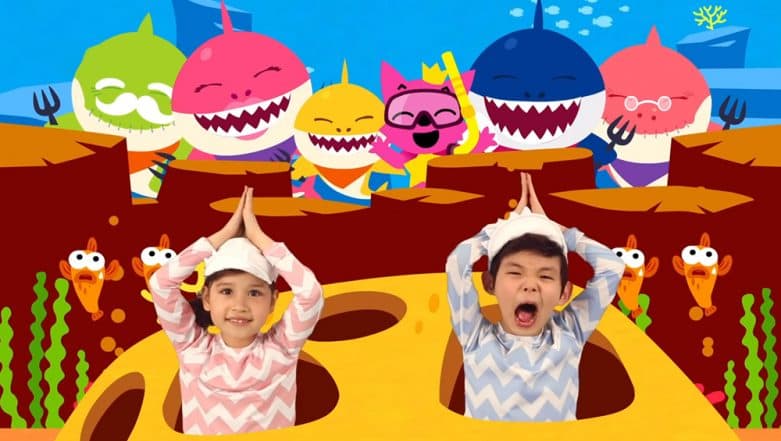 You do not need to have a baby to groove to the Baby Shark song. The moment you hear the tune, you can't help crooning, "Baby SHARK, doo doo da-doo da-doo…. Mommy SHARK, doo doo da-doo da-doo…" Although the song is aimed at kids under age three, it is safe to say that the song has today, become one of the most popular cultural artefacts. The various versions of the song are uploaded on YouTube and other social media platforms and have garnered millions of views. A lot of videos have gone viral, with kids reacting, every time they hear the song played in the background. And they are the best thing on the internet to make your day. YouTube Children's Song 'Baby Shark' Slammed Over Sexist Lyrics in Korean Version. 
Recently, a tiny tot was captured in a video comfortably sleeping in the back seat in a car. The baby suddenly woke up listening to the peppy tune of "Baby Shark" and began dancing. The adorable clip has gathered more than seven million views on Twitter alone. There are other similar videos of kids dancing to Baby Shark.
Here's the Video:
true fan of baby shark pic.twitter.com/uD6EX2v1Pa

— Adriana 🌸 (@Adriana_Derath) August 18, 2019
Watch Video: Baby Dancing to Baby Shark
"How adorable!" says everyone who saw the kid dancing to the tune of "Baby Shark." Sitting comfortably on the sofa, the child could not stop smiling, hearing the song. The video has garnered more than 27 million views on Facebook alone.
Watch Video: Baby Dancing With Parents to Baby Shark
Like most kids, this one also loves it when "Baby Shark" is played. In this video, the toddler can't contain her joy as her mom and dad join in on the fun too. The video was uploaded on Facebook and is loved by millions of those who watched it.
Watch Video: Baby Pissed at Alexa for Not Playing Baby Shark
In the video, Zoe can be seen asking Alexa to play the peppy number. But gets irritated when the AI machine misunderstood and played a different song. Soon her mother came in to help her, and the moment the song was played, you can see her million-dollar smile. The video achieved one billion views on YouTube.
Watch Video: Adults in Baby Shark Challenge
As mentioned, the song is not only limited to babies. Last year, videos surfaced online with adults taking the viral Baby Shark challenge. The clips were hilarious and gathered millions of views on the internet.
Such videos are evergreen. And "Baby Shark" song is also slated to become one. It is an earworm, a dance craze, a meme and so many more. We cannot ever get bored of videos online with kids dancing to "Baby Shark."