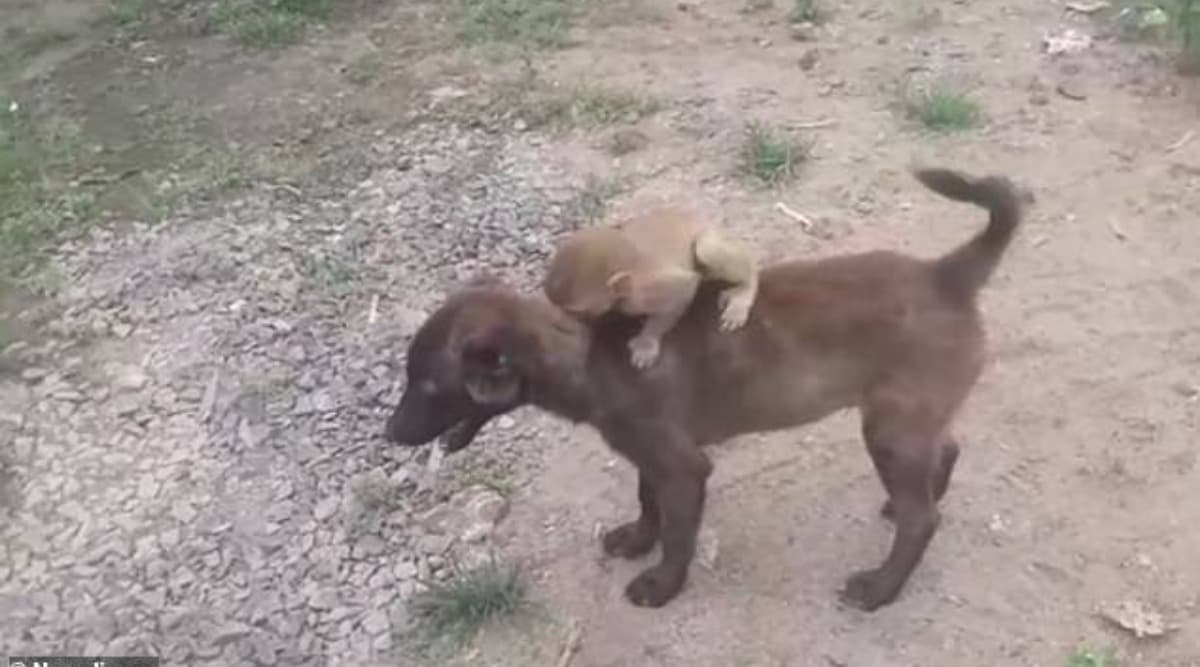 An adorable video of a dog carrying an abandoned baby monkey into a police station has gone viral on social media platforms. The clip shows the baby monkey clutching on the dog's back as the dog carries to Rehli Police Station in Madhya Pradesh. The video shows the dog wagging its tail as the baby monkey clinging on the back after being separated from the family. People were surprised as the dog carried the little one to the cops. The monkey even has a collar, seems the men who caught it put one on it. Golden Labrador Adopts Nine Orphaned Ducklings; Twitter is Flooded with Pictures of the Cutest Bond!
The video further shows an officer peeling a banana and feeding it. Thereafter the monkey eats the fruit on its own. Reportedly, the monkey was separated from its mother after some men captured it. The dog found the monkey near a lake and picked it up and took it to the police station. A cop said that the animal was later handed over to the forest officials.
Dog Carrying Abandoned Baby Monkey On Its Back:
There have been multiple incidents in the past when dogs took care of other animals belonging to a different clan. From kitten to lion cubs, there have been stories of dogs adopting animals which have been abandoned. In a similar incident, a pet dog named Ruby adopted an abandoned monkey in a village near Seoni Malwa in Hoshangabad district of Madhya Pradesh earlier this year. Reportedly, after the baby monkey was attacked by a group of dogs, Ruby rescued it and started treating it as its own. Pictures and videos of the dog carrying the monkey were shared widely on social media.