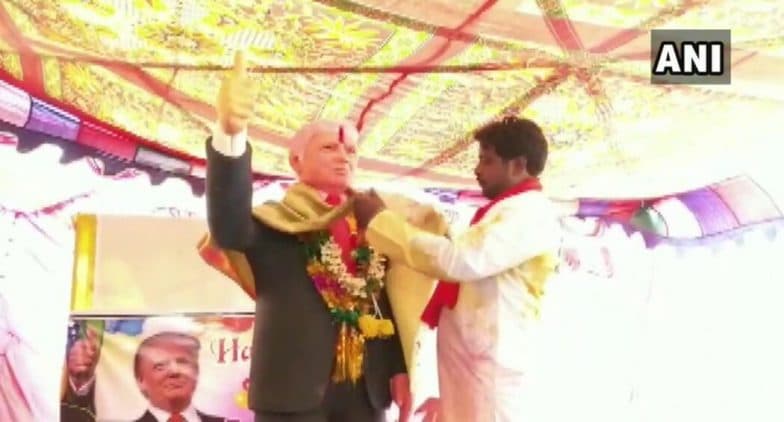 Jangaon, June 18: A 32-year-old farmer from the remote Konne village in Telangana's Jangaon district has installed a statue of the United States President Donald Trump and offers him prayers every day. Earlier, Bussa Krishna used to offer prayers to Trump's picture, but now, he has installed a 6-feet statue of the Republican leader. The Real Estate Mogul Who Became the President of United States, Net Worth and Other Facts.
Not only this, but Krishna also performs 'Abhishekam' of the statue, which cost nearly Rs 1.3 lakh, with milk and offers flowers, vermillion and turmeric at the end of the puja. The Trump fan built the statue with his own money and installed the American President's statue on his 73rd birthday on June 14.
Tweet by ANI:
Telangana: Janagam-based Bussa Krishna installed a 6-feet statue of US President Donald Trump on the latter's birthday on June 14. He also performed 'abhishek' of the statue with milk. Krishna said, "I will offer prayers to the statue everyday" pic.twitter.com/LJsddXUmfD

— ANI (@ANI) June 18, 2019
Speaking to media, the die-hard follower said that he had become a big fan of POTUS for his straight forward approach ever since he became President. Explaining his love for Trump, Krishna told Telangana Today, "When I started offering prayers to Trump's portrait at home, people laughed at me and some of them even advised me to visit a psychiatrist. But I know that my mental health is perfectly all right and I love to worship Trump."
Krishna now wishes to meet Trump and make him aware of his adoration for him. "I am praying the god to see that I meet my 'god' at least once. I would like to tonsure my hair after meeting Trump," he said. The statue which cost him over 2000 dollars was sculpted in Kolanpak.