A street fish vendor from Vietnam has clearly no competitor in the Hai Phong market, thanks to the adorable company he has on his stall. Le Quoc Phong has a 3-year old cat, who has an antithetic name Dog and which dresses up like a gentleman accompanying him in the local market. The cat is undoubtedly persuading for the customers to buy from his stall. And just like its name, Dog also has another opposite quality, to sell fish! We are used to seeing cats around fish vendors, all waiting to get pieces of fish to gulp down. But not, Dog, this one watches the stalls and roams around in the market wearing cool outfits. Naturally, he is taking the internet by storm.
His owner Le Quoc Phong was quoted to Bored Panda, "Dog loves ice cream, traveling and sleeping. He also has a lot of girlfriends and a lot of children in the country." It may seem that he is uncomfortable in his outfits but the owner claims it is not so. Instead, he finds it cozy and is quite comfortable in roaming around the streets in these. Well, his pictures show that too.
Take a look at Dog, the cat's pictures:
Selling fish is my business!
And accuracy is important
So who is the boss here? I am! 
Dog is pro seller, fish or veggies!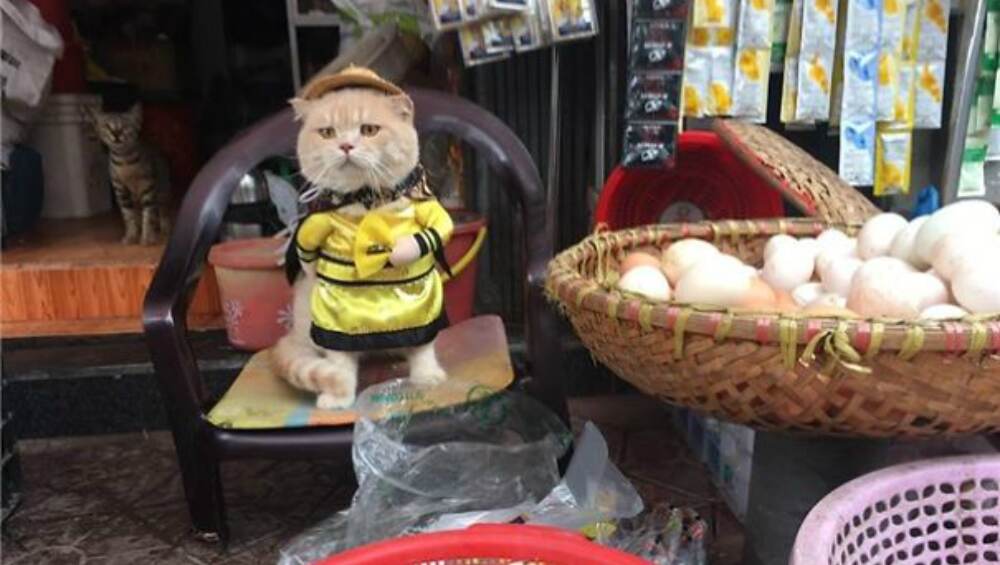 Dog's love for ice-cream is clearly visible
Dog is a rockstar! 
Dog can clearly win a fancy-dress competition
We can see Dog wearing a yellow shirt, matching hat along with small black glares too. He is a cute little Rockstar! His pictures have been making headlines across the borders. The cat keeps an eye too well while the master's not around. The pictures show that Dog is not just a pro at selling fish, but also looks well after the vegetable stalls! He can confidently carry out different outfits, that too the traditional ones. Cat lovers, don't you feel like paying a visit to Dog?