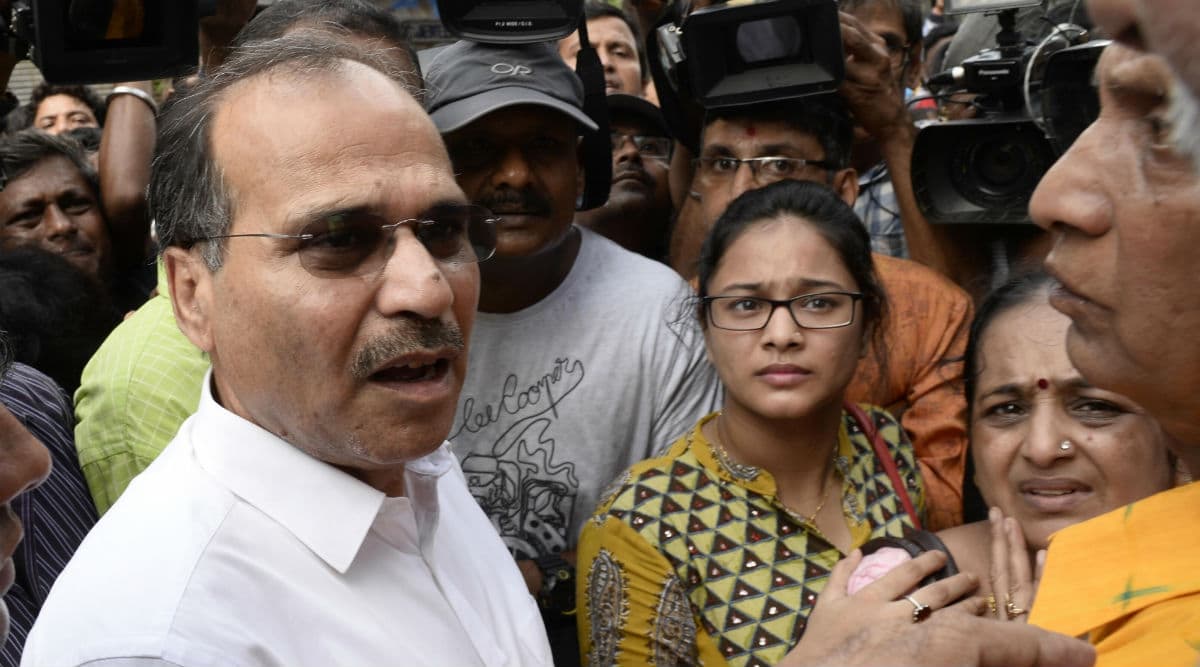 New Delhi, October 22: Congress leader in Lok Sabha Adhir Ranjan Chowdhury struggles to speak Hindi inside Parliament or in public. It seems Adhir Ranjan Chowdhury faces problems when it comes to English as well. On Tuesday, Chowdhury posted a cryptic tweet in English on former Union Finance Minister P Chidambaram, leaving netizens perplexed. Chowdhury's bizarre tweet about P Chidamabarm left Twitterati scratching their heads as it was about "enlargement". Congress Suffered Due to Alliance With TMC: Adhir Chowdhury.
"Enlargement of @PChidambaram_IN Ji has eloquently proved that at the end of the day truth prevails upon, he is iŕresistible," Chowdhury tweeted. Despite the ambiguous nature of the tweet, the five-time Congress lawmaker neither deleted the post not issued a clarification about the same. Since Chowdhury did not bother to clarify, netizens came up with their own explanations about the tweet. Rahul Has Set Rare Example, Khurshid Should've Discussed Issues Within Party: Adhir Ranjan Chowdhury.
While some termed Chowdhury's tweet a result of "translation going wrong", others wondered if the Congress's leader's Twitter account was hacked.
Here are some reactions to Chowdhury's tweet:
Google translate gone wrong. Horribly wrong.

— nihal mohammed (@theNihalMohd) October 22, 2019
Account hacked?? 🤣

— Neha (@A_nehaaa) October 22, 2019
Dada, Bengali me hi tweet kar do

— Faraz (@iamAKHTER) October 22, 2019
Such tweet during day time?

— वेंकटेश Venkatesh Iyer (@Venkatesh3112) October 22, 2019
In August, Chaudhary had left the Congress party in embarrassment when he questioned the Modi government how Jammu and Kashmir issue can be an "internal issue" if it is under United Nations' monitoring since 1948. This happened during a discussion on Jammu and Kashmir's special status granted under Article 370 of the Indian Constitution.
"You say that it is an internal matter, but it is being monitored since 1948 by the UN, is that an internal matter? We signed the Simla Agreement and Lahore Declaration, was that an internal matter or bilateral?" Chowdhury asked after Union Home Minister Amit Shah moved the Jammu and Kashmir Reservation (Second Amendment) Bill 2019 for bifurcation of the state in two UTs and a resolution revoking Article 370 from the state in the House.
"(External Affair Minister) S. Jaishankar told (US Secretary of State) Mike Pompeo a few days before that Kashmir is a bilateral matter, so don't interfere in it. Can Jammu and Kashmir still be an internal matter? We want to know. Entire Congress party wants to be enlightened by you," he added.
Shah quickly hit back at Chowdhury, asking that the Congress cleared its stand that the Kashmir issue is monitored by UN and that the party is suggesting that the global body should intervene in solving the issue. "... what he (Chowdhury) asked me... I want his clarification on that. He said that J&K matter is pending in UN. So, how will we take this Bill without UN's permission? Please clarify what you want to say," the Home Minister asked.
At this, Chowdhury said: "No! We just wanted clarification. I have doubts. You (government) says that J&K is internal matter. You want to bifurcate the state. But I want to clarify that if it is under UN monitoring since 1948, then how if can be an internal issue."