As #MeToo movement has gripped the nation, many women including celebrities have come out in open naming people who have sexually abused them. However, in the midst of the mass social movement, a fake tweet is going viral. While many women from the entertainment industry have accused men of sexual misconduct, this fake tweet claims to be actress Aishwarya Rai Bachchan's #MeToo story.
The fake tweet which has been going rounds on social media hints at the abuse Aishwarya faced during her relationship with actor Salman Khan. While Aishwarya herself had spoken in the open about the toxic relationship in 2002, the actress never took to social media about it. Infact Aishwarya does not have a Twitter account. #MeToo in Bollywood: Nandita Das, Konkona Sen Sharma, Zoya Akhtar, Meghna Gulzar Won't Work With Proven Offenders
The Times of India had quoted Aishwarya in 2002 as saying, "After we broke up, he would call me and talk rubbish. He also suspected me of having affairs with my co-stars. I was linked up with everyone, from Abishekh Bachchan to Shah Rukh Khan. There were times when Salman got physical with me, luckily without leaving any marks. And I would go to work as if nothing had happened."
A screenshot of the tweet by (Aishwarya Rai @AishwaryaRai) reads, "Yes I was abused, beaten and many times threatened in my previous toxic relationship. Bollywood's biggest charity man who calls himself 'human' is not so human after all."
Here is the fake tweet claiming to be by Aishwarya Rai Bachchan going viral: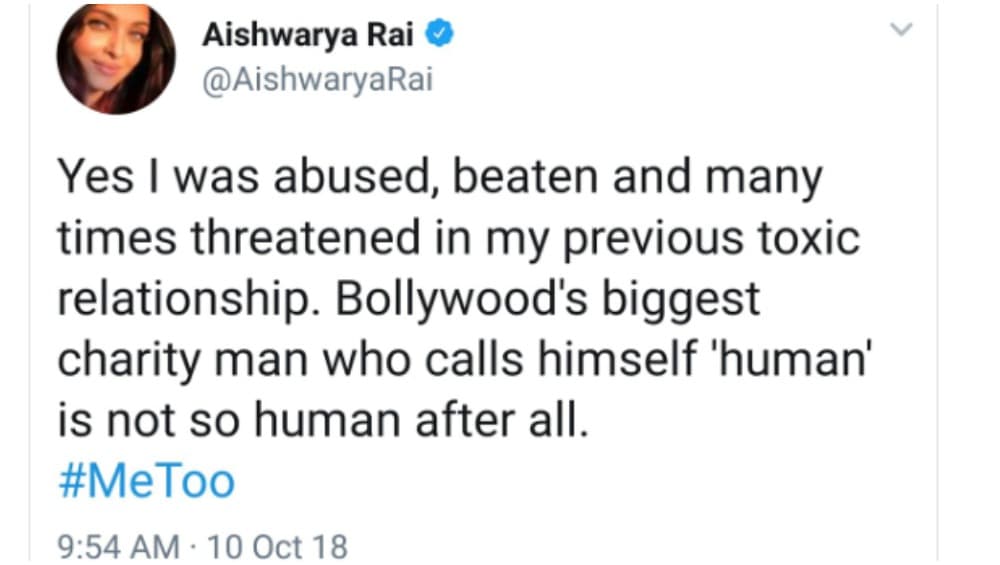 However, when we checked the Twitter account, their last tweet was on May 14 announcing that Aishwarya had joined Instagram. We also spotted an account which has the same DP in the fake tweet, however, they do not seem to have tweeted anything on October 10. Screenshot of the tweet also went viral on instant messaging app WhatsApp. #MeToo in Bollywood: T-Series Chairman Bhushan Kumar Files Police Complaint After Getting Accused of Sexual Misconduct.
Here is the Twitter handle (Aishwarya Rai @AishwaryaRai):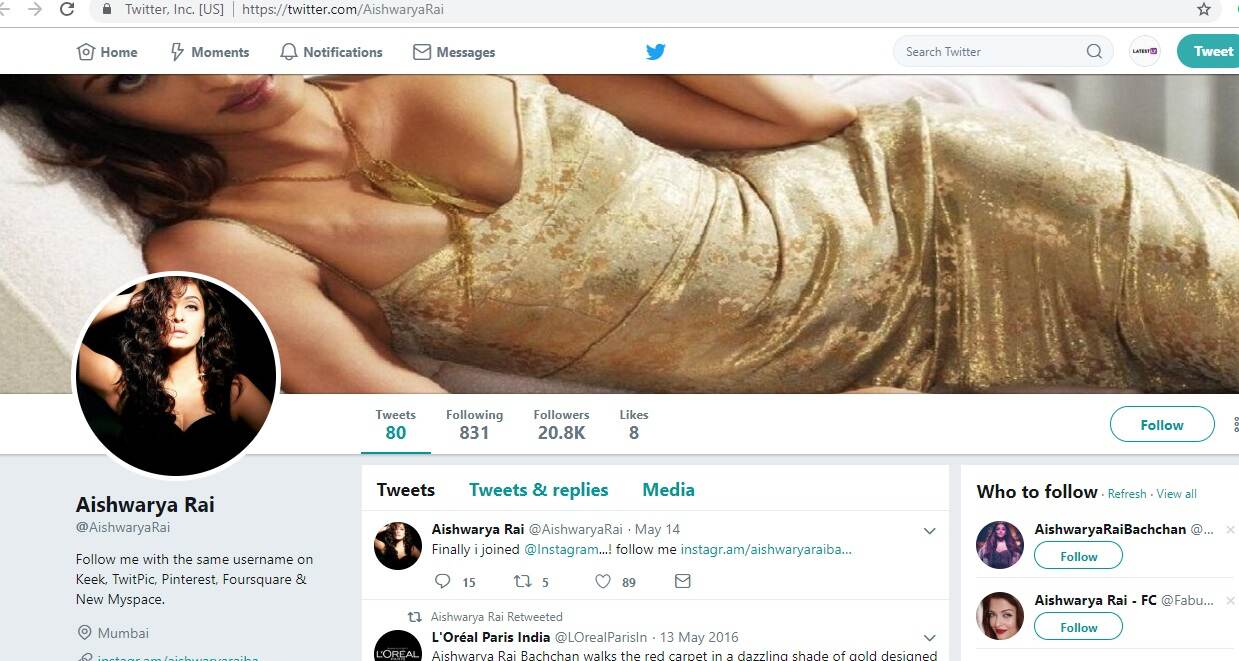 Here is another Twitter handle (Aishwarya Rai Online @AishwaryaRaiWeb):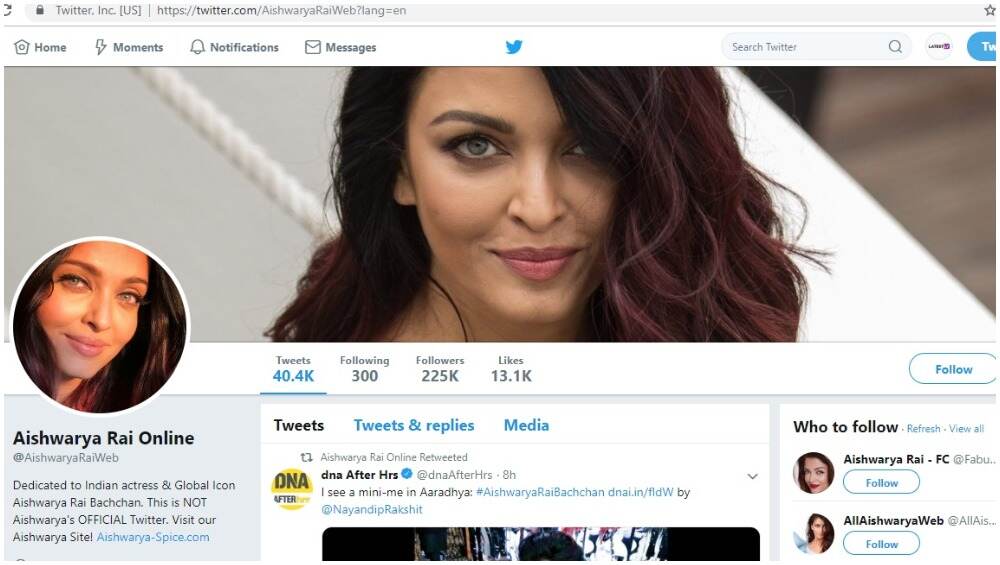 At a recent promotional event when asked about #MeToo, Aishwarya said, "I have always spoken out. I spoke in the past, I am speaking now, and I will continue to speak."
The #MeToo movement started gaining momentum on social media only recently. The hashtag had created a similar impact when it grabbed eyeballs in the West last year. In India, it has shaken the roots of several misogynistic thoughts and even work ethics. Many who were accused in the process were fire from their workplaces, in the film industry people many projects have been cancelled or postponed. A group of female actors and filmmakers including Konkona Sen Sharma, Meghna Gulzar, Zoya Akhtar, Nandita Das among others stated that they will not work with people who have been accused of sexual offences.