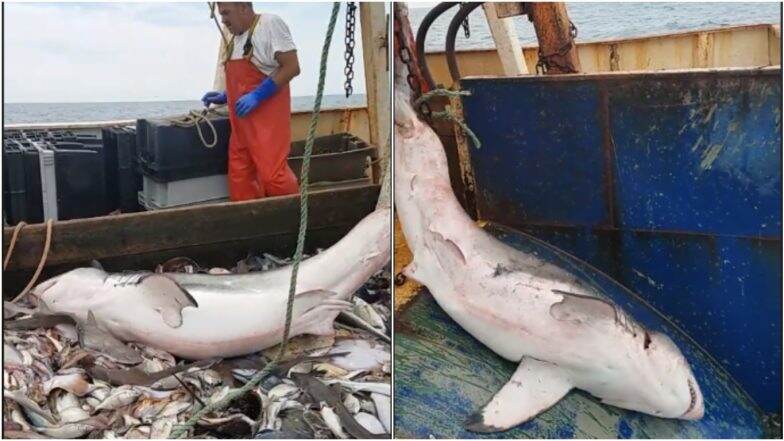 Fishermen in Rhode Island were surprised to have a heavier catch on Sunday morning squid fishing. But it was 6-foot shark which had accidentally been caught in their net which made their catch so heavy. White sharks are commonly seen around the fishing boats in New England these days, and one of the unfortunate ones was caught in the fishing net. The shark was very much alive when they pulled it out and it was thus released back into the ocean waters. The video of the release is gaining popularity on social media. Shark Swallowed by Another Massive Fish in This Video is Shocking!
Fisherman Michael Lorello found a shark caught in his fishing net near the Misquamicut Beach. But in less than 10 minutes, they released it back into the ocean waters. The videos shared by Lorello shows the shark striving hard out of the water and it even thrashed the boat as the crew members tried to help. Lorello who has been fishing for more than two decades had a first of such encounter. The crew used the crane attached to the boat to release the shark into the water. In the videos, one man can be heard saying, "plenty of life in him." Six Pregnant Male Sharks Found by Marine Biologist in East Coast of India. 
Take a look at the video of the shark being released into the ocean water:
While the fishermen here were successful in releasing the big fish back into the waters, another shark died after entangling in a fishnet and the news caused an uproar on social media platforms. The other incident took place off the coast of Scituate when the fishermen caught a 10-feet white shark female. The shark here too was an unintentional catch as described by the Atlantic White Shark Conservancy. But the team posted photos which caused an uproar on social media. The scientists from the Massachusetts Division of Marine Fisheries and NOAA Fisheries New England took samples to study the species in detail.