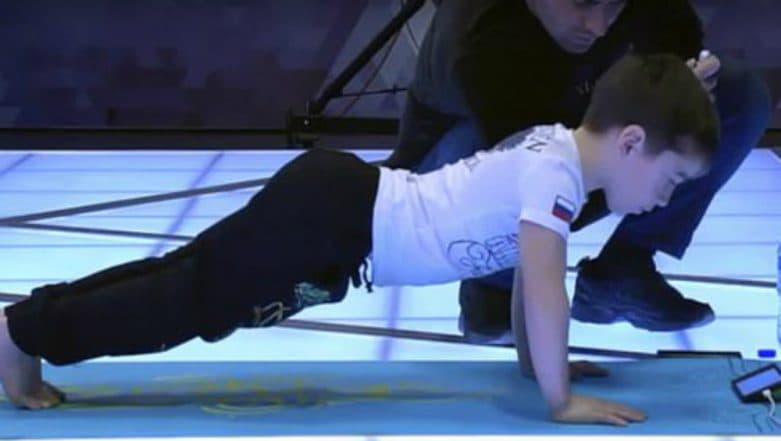 Rakhim Kurayev from Russia has completed a record 3,202 consecutive press-ups at the age of five. With the achievement, he has broken six world records. Making way into the record books, he completed 1,000 press-ups in just 40 minutes 57 seconds and 2,000 press-ups in 1 hour 30 minutes. Video of the child doing his record-breaking stunt has gone viral on social media.
Rakhim does not look like the average five-year-olds; he has a strong built with well-defined abs, biceps, strong shoulders and chest. His physique has given him the nickname 'five-year-old Schwarzenegger'. Strongman Ramzan Kadyrov, a native of Chechnya can be seen cheering as the boy attempts the stunt. Kadyrov who judged the event said, "I did not in the least doubt that he would manage to repeat his record in the presence of the Commission of the Book of Records of Russia." Five-Year-Old Mia Aflalo's Beautiful Hair Makes Her an Instagram Star and Lands Her a Place in British Vogue! (View Pics)
Rakhim Kurayev was gifted a brand new Mercedes by a close lieutenant of Vladimir Putin. He was also given a Mercedes car worth £28,000 (approx Rs 24,90,00) and a free trip to a toy store.
Watch the video below:
Kadyrov also said, "He did 1,000 press-ups in the shortest time - 40 minutes 57 seconds; 2,000 press-ups in the shortest time - 1 hour 30 minutes 47 seconds; the largest number of press ups in one hour - 1,419 times; as well as the biggest number of press-ups in 2 hours - 2,559 times and, finally, he did 3,000 push-ups in the shortest time - 2 hours 22 minutes 9 seconds."  However, all of these are not officially counted because Rakhim did not attempt them in front of officials at the Guinness Book of Records and Book of Records of Russia.