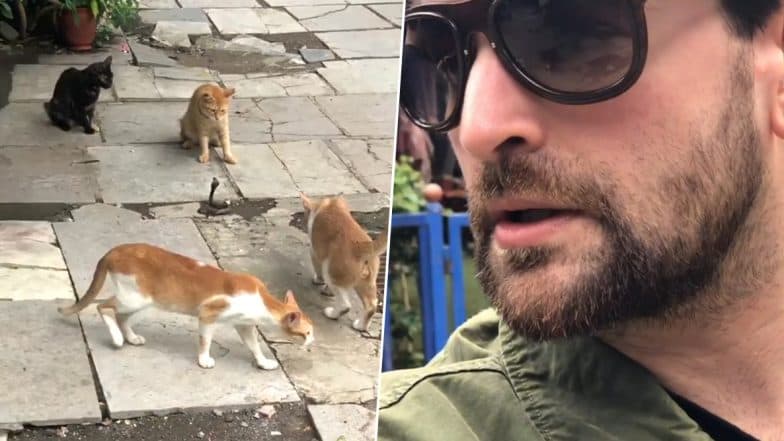 Video of a stand-off between four cats with a snake shared by Bollywood actor Neil Nitin Mukesh has gone viral on social media. The clip shows four cats trying to attack a tiny snake much to the shock of internet users. The reptile can be seen gliding towards the cats as the animals try to scare it off. While snakes are known for devouring anything that comes in its way, this snake's small size seems to have proven a disadvantage to it. As the video went viral, people commented on the Instagram post that it was a cobra snake. Pet Dog Saves Owner From Cobra Bite But Dies of Snake Poison in Tamil Nadu.
In the video, Neil says that he saw the scene and recorded it during the shoot of his upcoming film, Bypass Road. He shared the video on social media with the caption, "Earlier in the day. Went for the BGM with @naman.n.mukesh for #BypassRoad , got down of the car and saw this." Hungry Snake Eats Itself, Swallows Almost Half of Its Body (Watch Rescue Video)
Last week, video of a snake and monitor lizard had gone viral on social media. At first, the snake swallowed the lizard and then regurgitated it. What is even more shocking is that the lizard escape the snake's clutches unhurt.
Watch The Stand-Off Between Four Cats And A Tiny Snake Here:
View this post on Instagram
Meanwhile, some also commented that instead of recording the incident, wildlife officials should have been ushered. While some thought that the cats were very brave, others pitied the snake. One of the comments read, "Someone should have informed the snake catchers to get that young cobra out of there and release it in forest area around." Bypass Road is being directed by Neil's brother, Naman Nitin Mukesh. Some of the shoot locations include Alibaug and Lonavla. The movie is set to be released later this year.