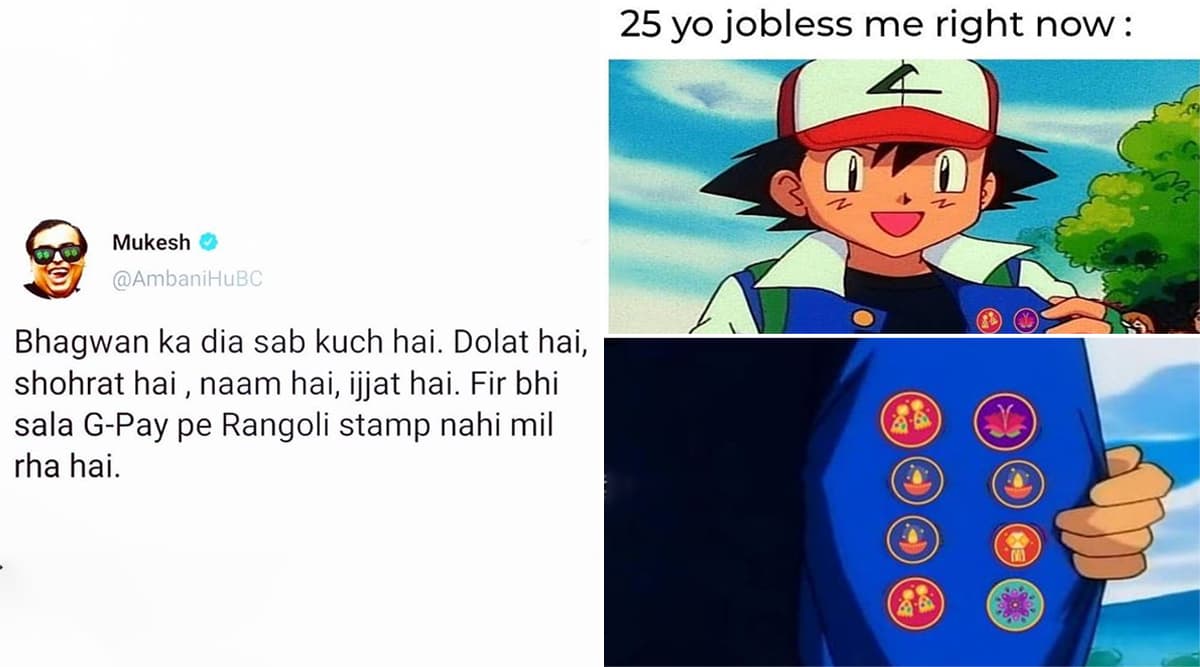 Ever since Diwali vibes began in India, the one thing that is taking social media by storm is Google Pay Rangoli Stamp. And if you are someone who can see "how to get rangoli stamp on Google Pay", "how to win the Google Pay Diwali offer," or "how To Get rangoli Or flower on Google pay", you are not alone. For those who don't know, Google Pay came out with a Diwali bumper offer that would give users an assured gift of Rs 251 on collecting all five Diwali stamps: Diya, Flower, Lantern, Jhumka and Rangoli. Lucky users also get the chance to win Rs 1 lakh. However, nobody imagined that this simple sounding offer will soon make waves on the internet. People were not able to find the Rangoli stamps specifically and it made them go super crazy, so much so that funny memes and jokes about it took over Instagram, Twitter, Facebook, etc. #StampsWaliDiwali became one of the most searched hashtags. Google Pay Introduces #StampsWaliDiwali: Earn Money on Gpay by Collecting These Stamps for Deepawali 2019.
However, the Rangoli stamp single-handedly created a stir on the internet because people could hardly find it. Every Diwali stamp was commonly found, especially the diya one but the Rangoli stamp became a rarity. However, Google Pay users did receive the Rangoli stamp after completing their five stamp collection. For those who are unaware of the rules, any transaction you make of above Rs 35 using Google Pay, you stand a chance to collect stamps. The android uses had a privilege of using the Diwali scanner to win stamps as well. However, nothing beats the funny memes and jokes about Google pays Diwali offer and the Rangoli stamp.
When Mukesh Ambani Says it!
View this post on Instagram
LOL
View this post on Instagram
ROFL
View this post on Instagram
Slide Into The DMs, Shall We?
View this post on Instagram
Ummm
View this post on Instagram
Can't Relate
View this post on Instagram
Oh, The Happiness
View this post on Instagram
Truth Unfolded
View this post on Instagram
As you know the Diwali stamps can be collected via bill payments, mobile recharges, other recharges and of course, money transactions. The offer became so popular that Google Pay planned to extend it beyond Diwali. So now you have the chance to win prizes till November 11, 2019, and not just till Diwali. Check tweet:
The best things about Diwali last even after Diwali:

Mithai

Gifts

New clothes

Oh and #StampsWaliDiwali is extended till 11th November #TheHuntContinues ✨

— Google Pay India (@GooglePayIndia) November 1, 2019
People are happy that Google Pay has extended its dates and users who can collect up to five stamps daily have a better chance of winning attractive prizes. Well, even if you didn't win at least you have super funny memes and jokes to laugh at. Also, we can always go back to earning cashback via scratchcard, although it is not easy to deal with the "Better Luck Next Time" results.