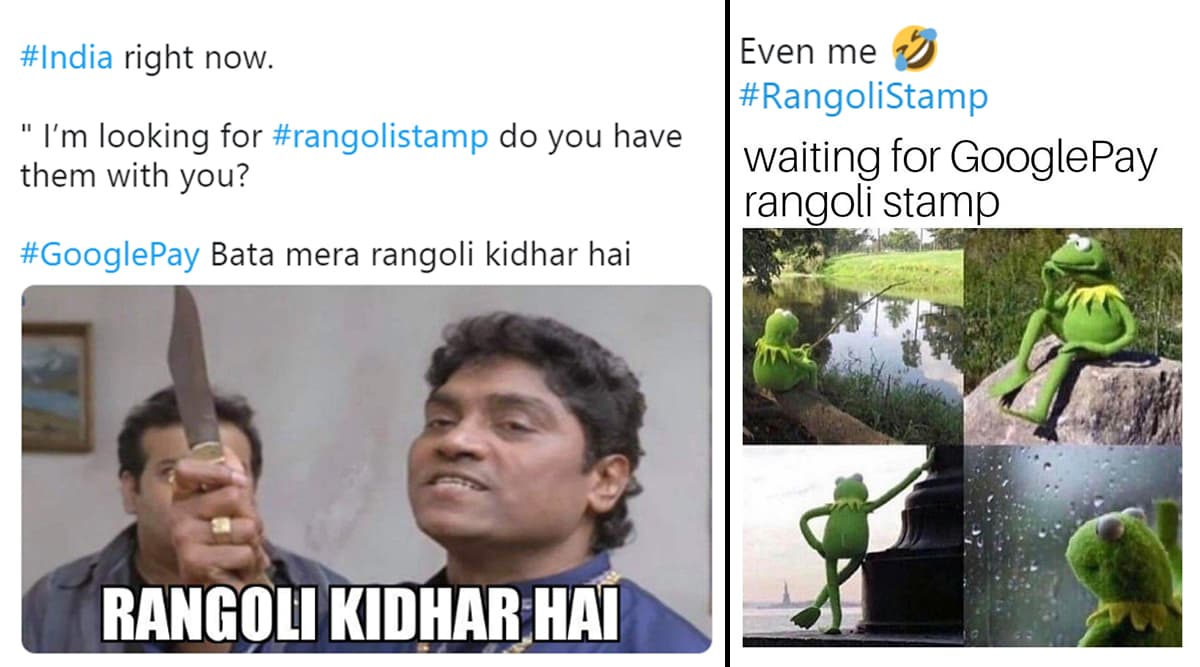 Online transaction application Google Pay has hooked everyone to their Diwali campaign #StampsWaliDiwali. The idea is to collect all the five stamps and then the user will win Rs 251. And users have participated since Day 1 but the contest lasts only till tomorrow October 31. But getting the stamps is not that easy, especially the Rangoli stamp. So people are tired asking for Rangoli stamps, some ready to trade too. #RangoliStamps are thus trending on social media, with funny memes and tweets about winning this coveted icon in a bid to win Rs 251. Google Pay Introduces #StampsWaliDiwali: Earn Money on Gpay by Collecting These Stamps for Deepawali 2019.
Google Pay of GPay is among the widely used applications for online transactions today and winning cashback through their rewards is one of the exciting parts. But off late, those rewards also display "Better Luck Next Time." To ensure people are using the application in time of the festive season, they launched a #StampsWaliDiwali initiative. In this, a user has to scan Diwali related objects like a lantern, jhumkas, diyas, rangoli and flower pot (firecracker). They could also be won by carrying out transactions. While some have already won their rewards, the rangoli stamp is not too easy to win. So frustrated users have resorted to making memes and jokes on them.
Check Some Funny Memes and Tweets on #RangoliStamps:
People Looking for Rangoli Stamps Be Like...
Anybody had #rangolistamp ...? pic.twitter.com/DLXtHk5LSB

— princeanil🌠 (@princeanil27) October 29, 2019
Me* to everyone, my friends & relatives for begging #RangoliStamp#StampsWaliDiwali #RangoliWalaStamp pic.twitter.com/v75mpPHT14

— ✍™ (@JawaanLaunda) October 29, 2019
Time For Money to Come In!
After winning #rangolistamp on #GooglePay pic.twitter.com/zh7xtEqNF9

— horsin_around (@maymaybachkheti) October 28, 2019
Relate to The Frog
Even me 🤣#RangoliStamp pic.twitter.com/usizpNqZlc

— Mystic Heart (@MysticHeart25) October 27, 2019
Everyone Right Now
#India right now.

" I'm looking for #rangolistamp do you have them with you? #GooglePay Bata mera rangoli kidhar hai pic.twitter.com/3YXSHqYiS3

— Abhishek kumar singh (@Abhishe14091998) October 29, 2019
Mission Unlocked
View this post on Instagram
Koi Toh Dedo
View this post on Instagram
People who have got the stamp could not stop flaunting the final reward. Tomorrow being the last day, there is, even more, need to find the Rangoli stamp as soon as possible. Have you been lucky enough to earn the reward from Gpay yet? If not keep trying or share these funny memes with other friends who can relate.