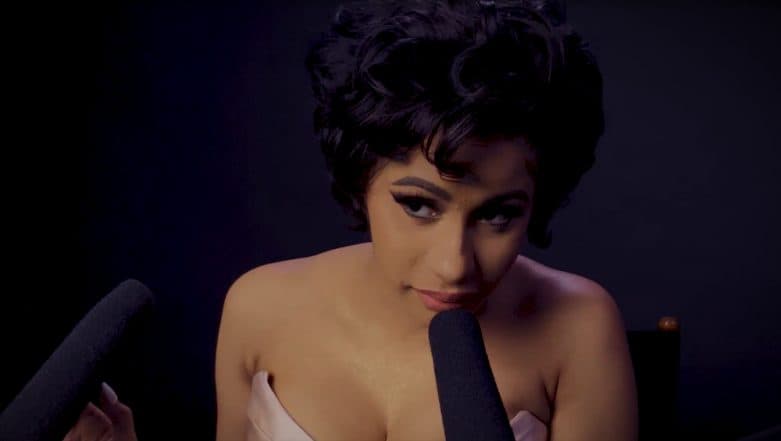 Rapper and award-winning singer Cardi B appeared for an interview with W Magazine to talk about her chart-topping single "Bodak Yellow" and about her first-time experience as a mother. But instead of speaking, the singer chose to whisper the ASMR way. For the uninitiated, ASMR stands for autonomous sensory meridian response, an experience that is characterised by a tingling, relaxing sensation that starts the scalp and spreads to the rest of the body.
Cardi starts off by whispering her trademark "Okurrr" catchphrase multiple times into the microphone. Speaking in hushed tones, Cardi introduced herself and told listeners that she was going to talk about herself ASMR style, while gently dragging her manicured nails across the microphones. She later plays with a wooden bead shuttle in the video.
Watch the full video:
She spoke about her apprehensions about being a one-hit-wonder when her single "Bodak Yellow" came out. "I was wondering if this is going to be my first hit. And it was. It changed my life forever," she whispered. Cardi B Throws Shoe at Nicki Minaj During the Harper's Bazaar New York Fashion Week Party (See Pics & Videos).
She says that her favourite thing about being a mother is to have someone to look forward to every day. "I get very anxious to see my baby 24/7. And I love my baby's face and I love her breath and I love her smile and I love how she looks at me," she whispered. Cardi also confessed to being an ASMR lover and that her husband Offset finds her obsession with it very strange. Cardi B & Offset Welcomes Their First Child! Proud Parents Announce Name of their Daughter 'Kulture Kiari Cephus.'
ASMR videos have gained popularity in recent years. According to Think With Google, currently, there are around 5.2 million ASMR videos on YouTube. Since 2015, the searches for the videos have grown by 200 percent.
Listening to ASMR can trigger soothing sensations that can be best described as someone running their fingers through one's scalp. The feeling is triggered by certain soothing sights and sounds like the soft rustling of fabric, whispering, crackling of wood in a fireplace and soft-toned voice.