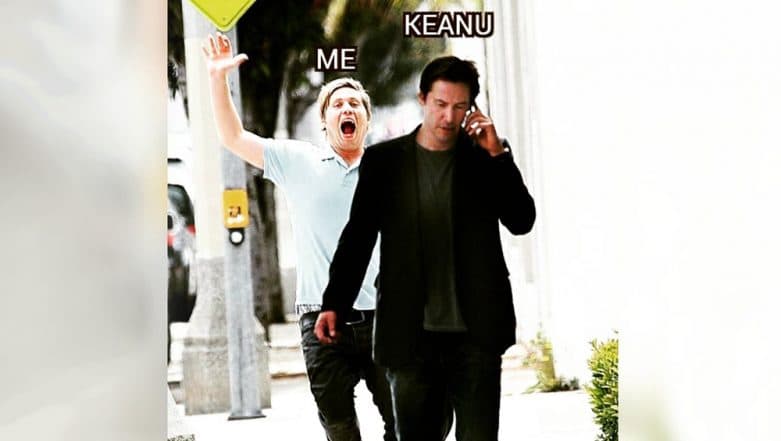 Keanu Reeves is easily the most loved person on the internet. The fact that Keanu has no idea the internet obsesses over him, makes the internet love him more than ever, if that was possible. The John Wick star turns 55 on September 2 and his fans are squealing of excitement. And by fans, we mean the entire internet. Not only is he appreciated for his acting skills, but people love Keanu as a person and his birthday means a lot to his fans. Thirstday Special: Keanu Reeves Sexy Pictures Will Ignite Your Loins, Don't Say We Didn't Warn You.
Keanu Reeves as been a meme a lot of times. And while Keanu makes us laugh with them, here are some wholesome memes on Keanu reeves to show how much we love having him around. Keanu Reeves Is a Meme Again, This Time With the Hilarious Mini Keanu.
Everyone
Me_irl from r/me_irl
AWW Keanu!
Just Keanu things from r/KeanuBeingAwesome
NO, You!
You're breathtaking! from r/dankmemes
Had Us in the First Half
Saw it in another subreddit, thought it would fit in here. from r/wholesomememes
I'm Coming, Too!
I'm staying there too from r/KeanuReeves
Keanu for President
The Keanu Reeves effect. from r/KeanuBeingAwesome
He's Perfect
When you accidentally open the front camera but you are Keanu Reeves from r/KeanuBeingAwesome
*Creates facebook Event to Throw Keanu Reeves a Massive Party
You have us Keanu Reeves from r/wholesomememes
The Keanu Effect
Keanu Reeves is Awesome from r/BikiniBottomTwitter
Everything is Better with Keanu Reeves
Keanu Reeves from r/PewdiepieSubmissions
Explain!
Keanu Reeves = God confirmed. from r/memes
We Want to See More Keanu!
Keanu Reeves God from r/dankmemes
The Prince We Want
Keanu Reeves good from r/dankmemes
We wish Keanu Reeves a very happy birthday! We're glad the internet is as obsessed with Keanu as we are. We get to see Keanu whenever we want and not a single negative thing about him. We stan!