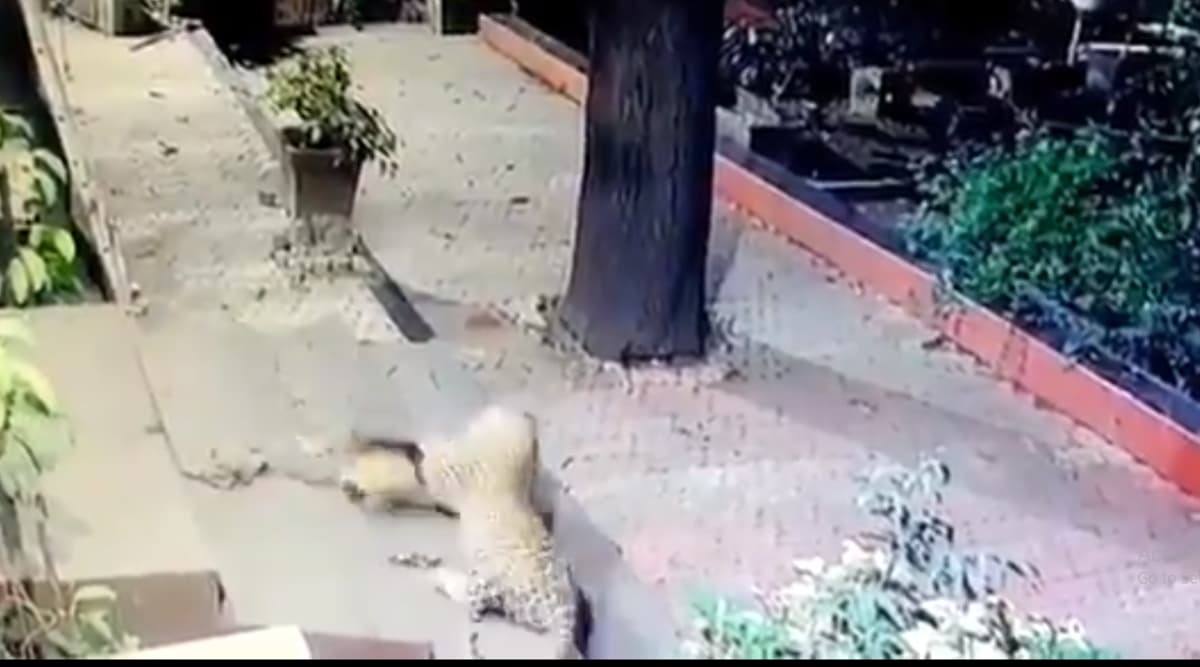 Mumbai, December 10: In a scary incident, a leopard was caught on camera attacking a stray dog near SEEPZ in Andheri suburb of Mumbai. The incident took place in the wee hours of Monday, triggering panic among the residents. Security personnel witnessed the attack and made a loud noise to scare the feline. He also reported the incident to the forest department. Leopard Enters House And Runs Away With Dog in Mouth in Karnataka's Shivamogga, Watch Chilling Video.
CCTV footage of the incident posted on Twitter showed the big cat sneaking up to dog before attacking it. In the clip, the canine can be seen napping on the stairs when the leopard advanced. The animal suddenly pounced on the dog and grabbed it by the neck as the canine tries to free himself. The dog managed to escape after leopard got scared off by the loud noise created by the security guard. Leopard Attack on Dog in Uttarakhand Hotel Caught on CCTV Camera, Watch Video.
Watch Shocking Video:
बिबट्याचा कुत्र्यावर हल्ला... अंधेरी पूर्वेकडील सीप्झ गेट क्रमांक 01 येथे एका कुत्र्यावर केला बिबट्याने हल्ला... बिबट्याच्या हल्लातून बचावलेल्या कुत्र्याची प्रकृती स्थिर... pic.twitter.com/TtLCHtxyvd

— Harshal Jadhav (@harshal_rj) December 9, 2019
According to a report, the big cat also attacked another dog in the same vicinity. Both dogs have been administered first aid. The forest officials have begun to search for the animal.
Earlier in a similar incident, a leopard attacked a dog, who was sleeping on the doorsteps of a house near Deolali area in Maharashtra's Nashik. Video of the incident showed the feline walking towards the dog silently and suddenly attacking the pet dog.