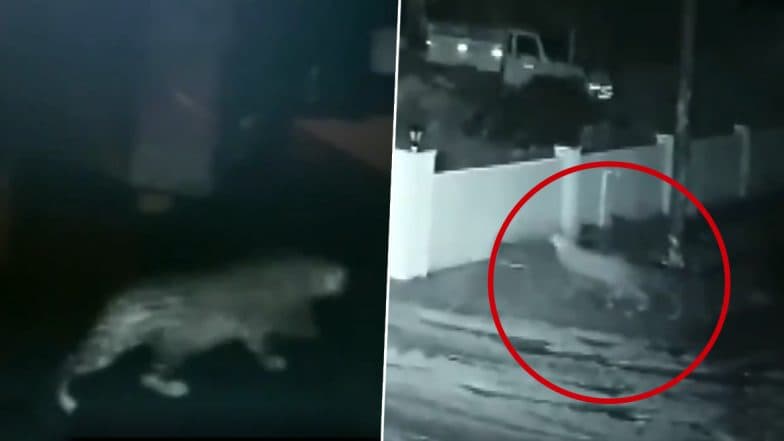 Shivamogga, September 15: A chilling video shows a leopard entering a house and taking away the family's dog. The leopard entered the house by jumping over the fence and the video shows the animal roaming in the premises of the home in Thirthahalli in Karnataka's Shivamogga district. Thirthahalli is a town located in the Shivamogga District which lies on the bank of the river Tunga. It is also close to the Western ghats and the hill range with dense forests. Leopard Causes Panic in Greater Noida; Captured and Released by Forest Department.
The video lasts for a minute and a half and shows the leopard entering the leaving the home from different angles. In between, he attacks the family's dog and runs away with it, reported ANI. Leopard Attack on Dog in Uttarakhand Hotel Caught on CCTV Camera, Watch Video.
Watch the Video Below
#WATCH Karnataka: A leopard entered a house and took away the owner's dog in Thirthahalli of Shivamogga district, yesterday. pic.twitter.com/z7H736ax51

— ANI (@ANI) September 15, 2019
The incident has reportedly scared the day lights out of the people living in the vicinity. Thoughts of what could have happened if a human being was out in the night have not gone unnoticed. Also, experts say that once a leopard makes a hunt at any place, the animal is bound to visit the place again. But what is most chilling in this video is that the leopard seems to have come with a clear picture of the house and executed its plan with surgical precision.