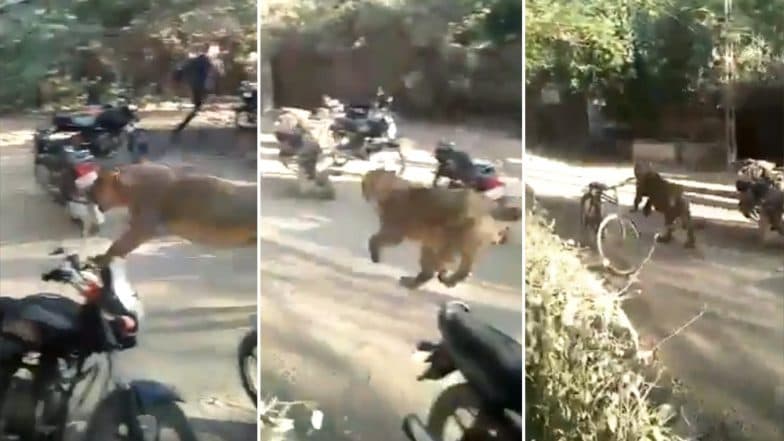 In a shocking incident, a lioness was captured charging through a crowd in Gujarat's Porbandar giving people the shock of their lives. A video going viral on social media shows the wild cat running down a dusty road as men run helter-skelter. In the clip, men can be seen running for their lives as the animal runs amidst them. The video has gone viral once again sparking debates on humans intruding wilderness. Twitter user Aniruddha Ghosal shared the video describing the "situation as ticking time bomb".
The tweet further reads, "The animal seems to be making her way out of human habitation. Experts say that overcrowding of Lions in Gir is resulting in frequent man-animal conflicts in the area." Gujarat: 3 Asiatic Lions Crushed to Death Under a Goods Train in Gir Forest of Amreli District.
Watch the video of lioness sprinting through a crowd here:
A panicked lioness charges through a crowd in Porbandar Gujarat. Experts described the situation as a "ticking time bomb" and said that it was the result of lions being forced to live in a human dominated landscape.

The relocation plan of lions to MP still on hold, as we speak pic.twitter.com/kRKFqLy2XU

— Aniruddha Ghosal (@aniruddhg1) February 12, 2019
Gir National Park in Gujarat currently has 6000 Asiatic lions. Multiple incidents involving wild animals have been recorded in Gujarat in the past too. Wild animals visiting the human population have almost become a norm in areas adjacent to the forests. While lions reach house looking for food, humans in return started attacking them for survival. The man-human conflict has been going on the state for quite some time with no permanent solution. 'Pride of Gujarat' Asiatic Lioness In Gir Forest Being Harassed by Locals is Caught on Camera, Watch the Shocking Video.
Video of people pestering lions has gone viral in the past. One of the clips showed a lioness made to beg for chicken in front of a group of men enjoying the show. There have also been incidents of people chasing lions on bikes and car. The Gujarat government has been severely criticised for these incidents.