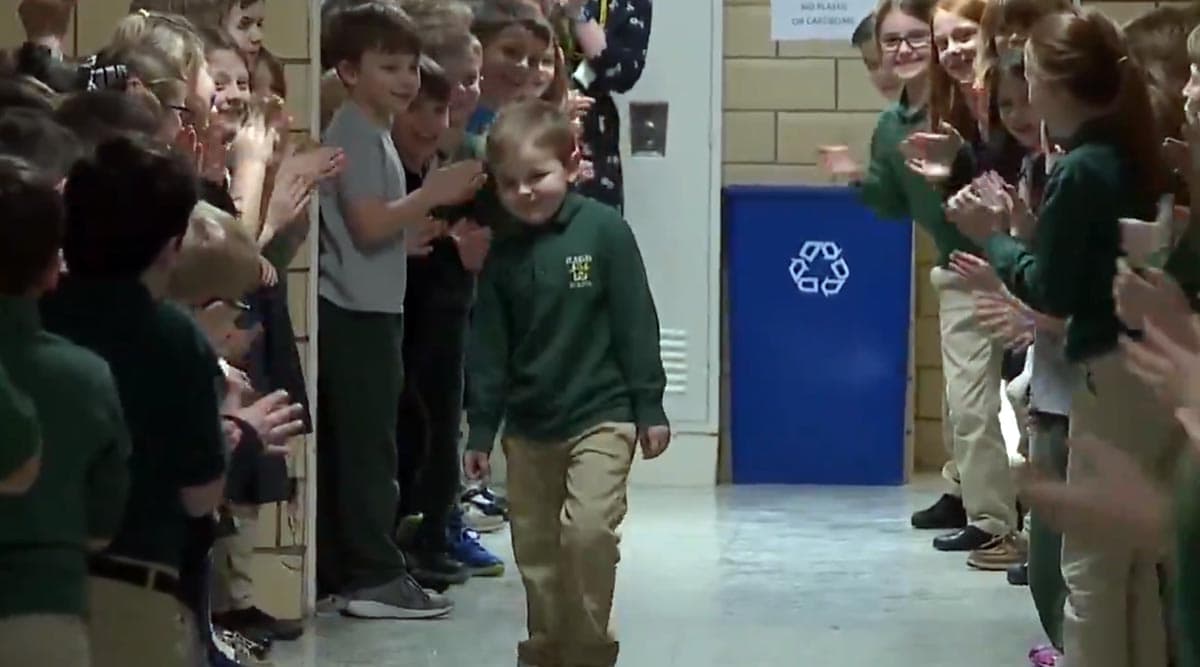 Nothing about cancer is easy and beating the serious medical condition, is an achievement for not just the survivors but everyone they know. Such was an emotional moment for a 6-year-old kid from Ohio, who returned to his school, after his final chemo treatment. The little boy, identified as John Oliver Zippay, also known as J.O. had been battling leukemia for three years. According to reports, J.O. received his final round of chemotherapy, two days after Christmas. After the holiday break, when he returned to his school, his classmates and teachers, welcomed him with joy, giving the brave kid a standing ovation. The video has been going viral, leaving netizens in happy tears. Heart-Warming Video of Little Nusayba Giving Her Liver Doner, a Hug After Fighting Stage 4 Liver Cancer and Defeating It, Goes Viral!
The 6-year-old, J.O. was diagnosed with acute lymphoblastic leukemia, in 2016, when he was just three years old. Reports further note that he had spent 18 days in the hospital and endured several years of chemotherapy. His fight with leukemia meant, he could not do many of the things, like boys of his age would otherwise do. But now, his parents believe, J.O. can do and lead a life like his classmates. 11-Year-Old Iowa Boy Dying from Leukemia Wants Racing Car Stickers for His Casket. 
During his treatment, J.O. was not able to do any physical activity, but now he can. "You want that for your child, to grow up and get dirty and play outside and have fun and we kept him in a bubble so we're excited. Looking forward to the future and having our little boy back," his mother, Megan Zippy was quoted in a FOX 8 report.
Watch the Video:
WAY TO GO! 6-year-old John Oliver just finished his very last chemo treatment and beat leukemia, so his entire school celebrated by giving him a standing ovation! ❤️😭

MORE: https://t.co/hHslVwwWFv pic.twitter.com/ix3aT8b3UD

— FOX 29 (@FOX29philly) January 10, 2020
The kid studies at St. Helen Catholic School. After the holiday break and his final chemo, he returned to school to witness his classmates, friends and teachers, standing in line, clapping in cheer and welcoming him, as little J.O. walked down the hallway.
Acute lymphoblastic leukemia (ALL) is a type of cancer in which the bone marrow makes too many lymphocytes—a type of white blood cell, explains the National Cancer Institute. Signs include fever, feeling tired and easy bruising or bleeding.