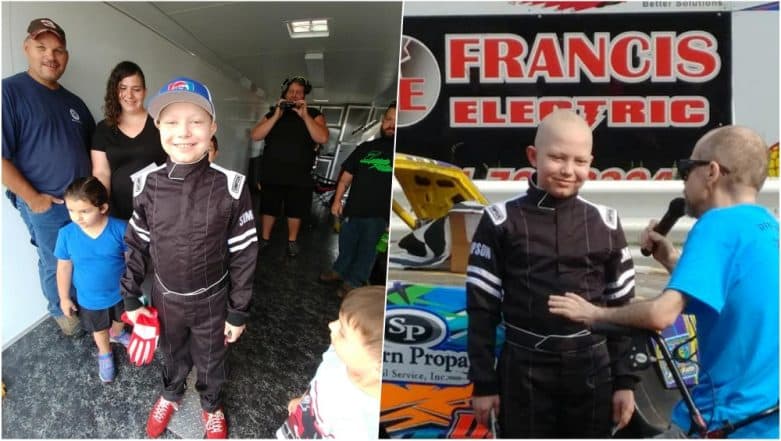 Caleb Hammond, 11-year-old from Iowa was diagnosed from B-cell acute lymphoblastic leukemia in February 2017. After months of unsuccessful chemotherapy treatments, a bone marrow transplant and medical scares, he and his family recently decided to stop treating his illness and spend time together. And now Caleb, a racing fan has a final request – to decorate his casket with racing stickers – is asking public for help and to send him stickers, as reported by Des Moines Register. The response so far has been overwhelming, said a family relative while they spend as much time as possible with Caleb.
"There were some other options left, but they were going to make him sick and do harm to his body," said his uncle Chris Playle. "They decided to call it quits and come home and be a kid and do the things he hasn't been able to do the last year and a half." Speaking on the overwhelming response on receiving the racing car stickers, Playle said, "We're trying to get a bunch of them. We're trying to decorate his casket. We're just trying to do as much as we can with him while he's here."
Caleb During a Car Race
Now that Caleb is back home, he's doing normal activities he refrained from when he was stuck behind hospital walls, as reported by the newspaper. Caleb turned 11 on August 14. Meanwhile, Team Kids with Cancer 46-7 made one of Caleb's dreams come true by getting him behind the wheel of a hobby stock race car. He drove in a six-lap race on Saturday. The organisation works to send goody bags to kids with cancer, while providing them opportunities to see and experience race cars. The organisation is also taking free-will donations at the event that will go to Caleb's family to help with expenses.
On social media, Caleb's shout-out for stickers has resonated with the racing community. Shops and racers nationwide have been posting Caleb's story and pictures of the stickers they're sending in. Playle said, throughout his struggles, Caleb has stayed strong. "We're just trying to get some racing in and trying to do everything we can to keep the spirit up. The support and everything, all the cards he's receiving in the mail, it's been overwhelming."