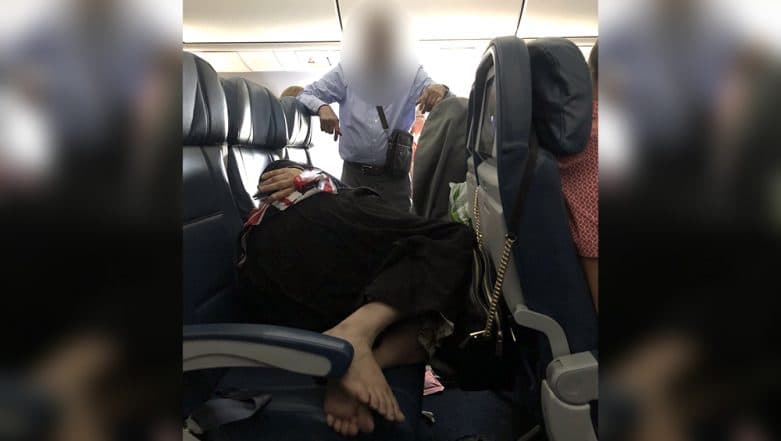 What would you do for the one you love? That's a vague question which can get different answers but a man's efforts to let his wife sleep on a flight has got all netizens talking about love. A picture has been going viral on Twitter which claims that a man stood for about six hours in flight so that his wife could sleep stretched out. The picture has got a mix of reactions, some applauding his efforts, while others calling the woman plain selfish. Remember the Viral Video of a 'Pakistani' Man Begging on an International Flight? - Here's the Truth!
A twitter user Courtney Lee Johnson shared this image on Twitter and it quickly went viral. In the picture, a man is seen standing in the aisle, with his wife resting on the three seats. "This guy stood up the whole 6 hours so his wife could sleep. Now THAT is love," he captioned the picture and netizens were shocked. Most netizens called it far from love. Man Films Plane Engine Falling Apart Mid-Flight, Internet Has an Anxiety Attack (Watch Video).
Check the Viral Picture Here:
This guy stood up the whole 6 hours so his wife could sleep. Now THAT is love. pic.twitter.com/Vk9clS9cCj

— Courtney Lee Johnson (@courtneylj_) September 6, 2019
Toxic Love?
Toxic...

— ✨J.T.✨ (@Hollywood_JT_) September 6, 2019
Love really?
Love? 🤔 pic.twitter.com/R0XRpDW1fD

— 🇿🇦Amani_♡ (@Londyheavens) September 6, 2019
How Did the Flight Attendants Allow This?
The flight attendants wouldn't even allow this 😪😪😪

— Beautifully_dope (@Steve_wozowski) September 6, 2019
This Clearly Doesn't Add up!
So the flight attendant let him stand for 6 hours? pic.twitter.com/Bgj8NGuKeA

— astro.nic.visuals (@NicVisuals) September 6, 2019
Selfishness
That not love. That's selfishness on the woman's part. Can't she just place her head on his shoulders and sleep. Love doesn't work like that lol

— Jessica ♔ (@Jessicalavril_e) September 6, 2019
Hours of Planning
He spent all of those 6 hours planning the divorce

— John Dose 🚀 (@_JohnDose) September 6, 2019
One person also commented that they'd rather be lonely. The major concern of most people was how did the flight attendants even allow the man to stand in the aisle for such a long time. And many people called it a fake image. Well, we too do not know if this is for real an instance but in case it is, it is far from love.