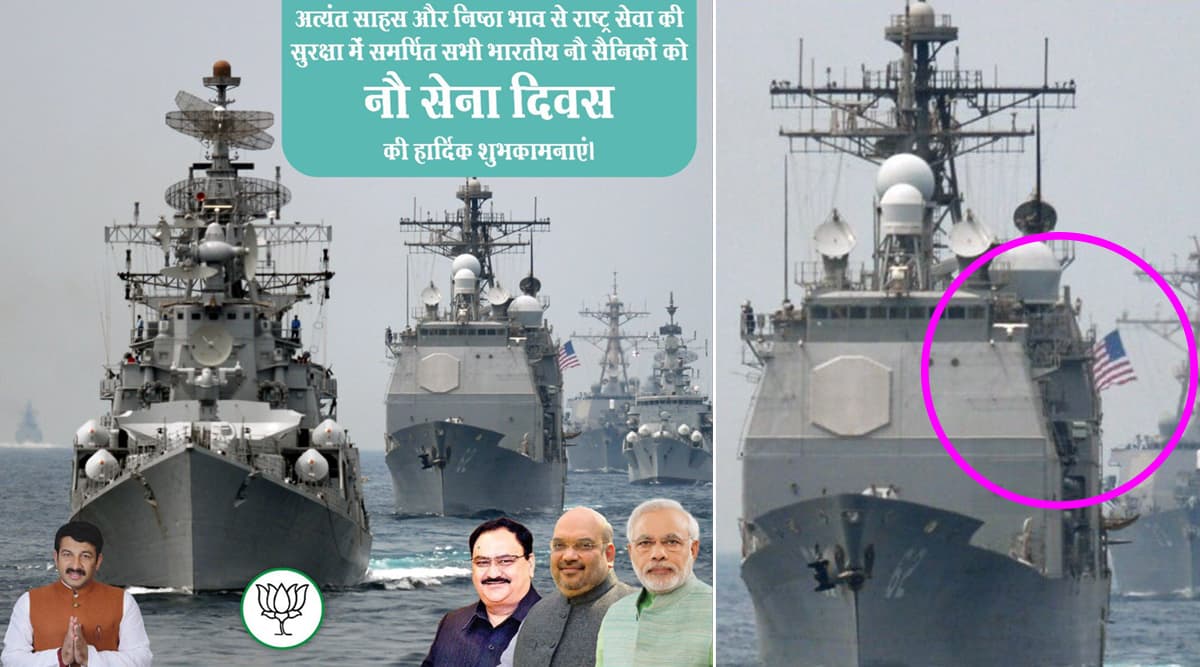 New Delhi, December 4: Manoj Tiwari, Delhi unit Bharatiya Janata Party (BJP) president on Wednesday was trolled by netizens for posting a picture of a navy vessel with a US Flag on Indian Navy Day 2019. The BJP leader took to Twitter to extend his greetings to officers of the Indian Navy on the special day. In India, Navy day is observed on December 4 , 1971 every year to mark the success and achievements and of the naval force to the country. The theme for Indian Navy Day 2019 is "Indian Navy-Salient, Strong and Swift". Indian Navy Day 2019 Date and Theme: History and Significance of the National Event That Honours Country's Naval Forces.
Here's Manoj Tiwari's Tweet:
अत्यंत साहस और निष्ठा भाव से राष्ट्र सेवा की सुरक्षा में समर्पित सभी भारतीय नौ सैनिकों को नौ सेना दिवस की हार्दिक शुभकामनाएं। pic.twitter.com/FXo5fjHaZg

— Manoj Tiwari (@ManojTiwariMP) December 4, 2019
Rinkiya ke Papa!
Rinkiya ke Papa Piche Toh dehko piche. pic.twitter.com/4gDmxn7zfU

— Nadeem_Khan (@imnadee) December 4, 2019
Indian Flag Please!
अरे मुजरे भइया, कम से कम फ़ोटो तो भारतीय जहाज की लगा लेते।

ऐसी भी क्या जल्दी थी गोयल से ज्यादा पॉइंट्स पाने की।

कमाल करते हैं तिवाड़ी जी। pic.twitter.com/QfpEmWrKwI

— मिर्ची मैन द ह्यूमन®☮️ (@100mirchilagegi) December 4, 2019
Bhai Bhai Bhai!
Bhai piche to us ka flag lag raha hai !

— All i need is..... (@FaithinRam) December 4, 2019
Wait, What!
था तो पैदाइशी मगर चुतियपा में निखार #BJP में आने के बाद आया है। तो ऐसे हैं अपने रिंकिया के पापा।

— fojila (@fojila) December 4, 2019
Copy-Paste Job?
Copy paste job available in BJP It cell..

— श्रीधर हळदणकर (@shridhar_8258) December 4, 2019
Okay, then! 
— The Patriot (@indicheguevara) December 4, 2019
One More!
— Epic Rofl Don (@EpicRoflDon) December 4, 2019
Earlier in the day, Prime Minister Narendra Modi greeted the Naval officers and lauded their service and sacrifice for the nation. "On Navy Day, we salute our courageous Navy personnel. Their valuable service and sacrifice have made our nation stronger and safer," PM Modi tweeted. He also shared a video on Indian Naval history.
President Ram Nath Kovind also extended wished on Navy Day. "On Navy Day, my good wishes to all officers and men and women of the Indian Navy. Nation is proud of your commitment in protecting our maritime frontiers, securing our trade routes, and providing assistance in times of civil emergencies. May you ever rule the waters. Jai Hind!" President Kovind tweeted.
On this special day, Defence Minister Rajnath Singh also conveyed his best wishes to the Indian Navy personnel and praised their courage on Navy Day. "On the Navy Day, I convey my best wishes and greetings to all the Indian Navy personnel and their families. The nation has unwavering faith and pride in the Indian Navy. It is the manifestation of India's maritime power. We salute their indomitable courage and valour," Singh tweeted.