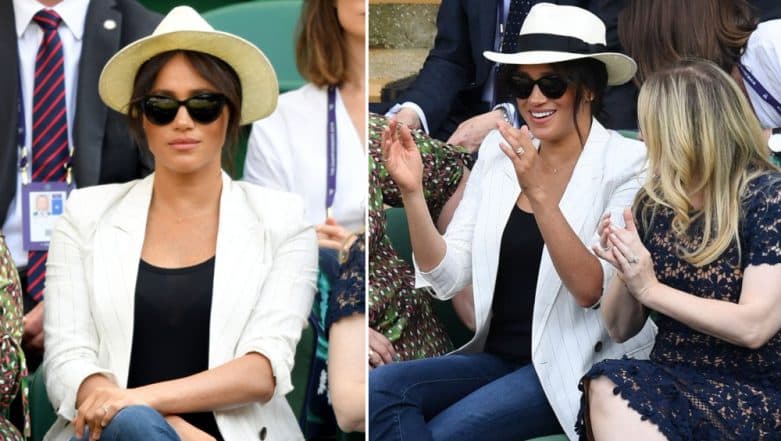 Meghan Markle is getting quite some backlash over her choice of outfit. The Dutchess of Sussex didn't know what she's getting herself into she married Prince Harry. Meghan started a whirlwind on social media and mainstream media when she opted for a pair of blue jeans to attend Wimbledon for Serena Williams' match. Meghan was there as a friend and wanted to extend support for Serena but got herself in a sticky situation without realising it. Serena Williams Goes Butt Naked in this Extremely Bold and Inspiring Photoshoot for Harper's Bazaar - View Pic.
Meghan Markle trapped herself in quite some criticism after she attended gal-pal Serena Williams' match in navy blue jeans with a black top. She styled it along with a white, subtly striped blazer and a white hat. As much as we're digging the smart look, some people had objections with her outfit. Reason being the royal family forbids women from wearing jeans. The royal protocol calls for their ladies to only dress in skirts and dresses that reach at least their knees.
Piers Morgan was one of the most vocal people as he bashed Meghan on his morning show, Good Morning Britain. Piers commented on Meghan and said, "She wants all the good stuff and she's behaving like a Hollywood actress.". Though Meghan Markle's team had banned photography, the paparazzi didn't follow. Prince Harry, Meghan Markle's Son Archie Christened at Windsor Castle in Private Service; See Pics.
Meghan Markle's Outfit Choice
#MeghanMarkle at #wimbledon today to cheer on close friend Serena Williams pic.twitter.com/3LZfTufxJy

— Meghan Markle Source (@mmarklesource) July 4, 2019
Piers Morgan took his platform to shame Meghan for wanting the best of both worlds. As we suspected, Twitterati was not having it from Piers. Piers Morgan has been infamous for his views and opinions. People were quick to defend Meghan by saying she's a self-made celebrity before Prince Harry's wife. Some people also compared her to Princess Diana and compared her bold moves to break the royal protocol and dress differently. While some chose to slam Meghan for following Princess Diana's path and disrespecting the royal codes, some praised her for Breaking the bogus rules that restrict women in ways.