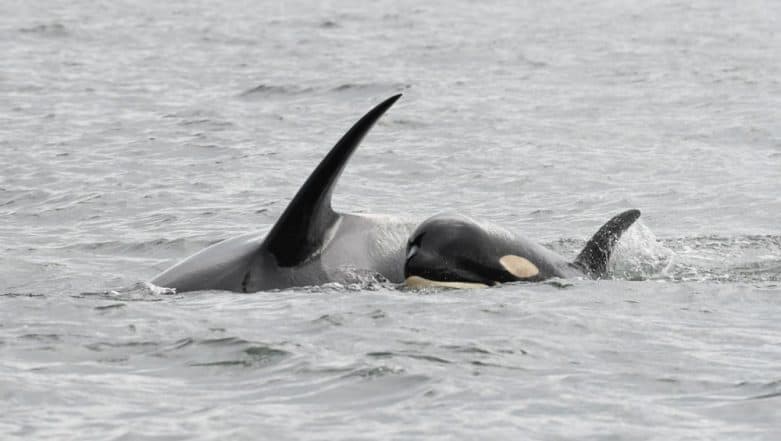 Orca whales are said to be the most intelligent creatures on the planet. They can exhibit joy and grief. It is a universal emotion, and it is intense in these images of an orca mother who is maintaining her dead baby as she swam near the coasting of Vancouver Island, Victoria, Canada. She continues to mourn carry her dead calf for a fifth straight day. The emotional pic appeared on social media and various news portals melted hearts.
The mother killer whale named J35, Tahlequah by experts gave birth on July 24 in what was initially a hopeful moment. According to the Washington state-based Center for Whale Research, both the mother and female calf were seen swimming together that morning. Within hours, the baby miserably died. One of the spokesperson of the Center was quoted in The Guardian, "The baby's carcass was sinking and being repeatedly retrieved by the mother, who was supporting it on her forehead and pushing it in choppy seas."
Here is the pic of mother orca mourning over baby's death!
The larger environmental question reflected in the J35 story is that both the USA and Canada MUST redouble efforts to restore wild salmon (particularly Chinook) throughout Washington State and British Columbia for a food supply for the SRKW in this region. - Ken Balcomb pic.twitter.com/mqQy83KxSe

— Whale Research (@CWROrcas) July 27, 2018
They further informed how mother Orca repeatedly tried supporting and pushing the dead baby whale throughout that day until sunset. She was still holding her calf for five consecutive days. J35's family members are also staying close to her. The researchers are also keeping watch over a 4-year-old member of the same family J50 who appears to be starving.
Report of calf's demise highlights the more massive tragedy facing orcas and the ecosystems that rely on the Salish Sea—a waterway stretching from south of Seattle to north of Vancouver. The Center for Whale Research monitors the whale population for the American and Canadian governments. They revealed in the same report that the survival rate of baby whales in the past two decades had been 75 per cent. It reflects the strong bonds these animals have, and as a parent, one can only imagine the emotional stress they must be in after having these events happen.