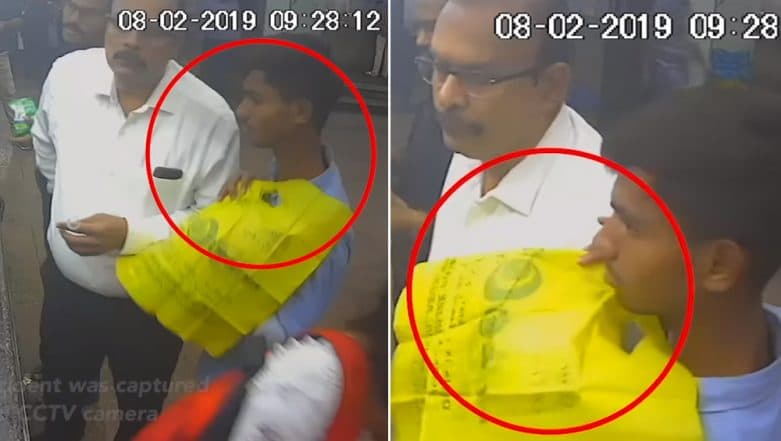 There is a rise in the number of thefts that occur at railway stations. The crowd and constantly busy people make it easier for pickpocketers to find their targets. Plus, these robbers have smart techniques to fool people and steal their valuables. A video has been shared online which shows how smartly a pickpocketer steals a phone of a motorman who was having coffee at a tea stall on the station. The theft incident was captured on the cameras at Churchgate station and the video is going viral. Two College Girls from Mumbai Steal 38 Mobile Phones in Local Trains for One Boyfriend.
A motorman named Ramachandran was buying coffee from a stall at Churchgate station. He had kept his phone in the front pocket of his shirt. It is very obvious if someone comes that close to you and tries to flick your money or your phone, but this pickpocketer managed to swiftly steal the phone, without anyone realising it. The entire incident which was barely within a minute was captured on the CCTV installed here. The thief, a young boy used a bag to cover up his hand while he flicked the phone from the motorman's pocket. Mumbai Youth Perform Dangerous Stunts on Moving Local Train, Snatches Commuter's Phone, Detained As Video Goes Viral.
Watch Video of a Theif Stealing Phone From a Man at Churchgate Station
It is such a common situation, where you too could be having tea or coffee from a stall on the station. The thief cleverly used his bag to cover his hand while he aimed at the motorman's phone and swiftly picked it up from the front pocket. There is no update yet if the police authorities have managed to catch hold of this thief. Many such videos have been shared on the internet and have gone viral even before which show thieves doing dangerous things like jumping off trains or performing stunts to snatch phones from the commuters.