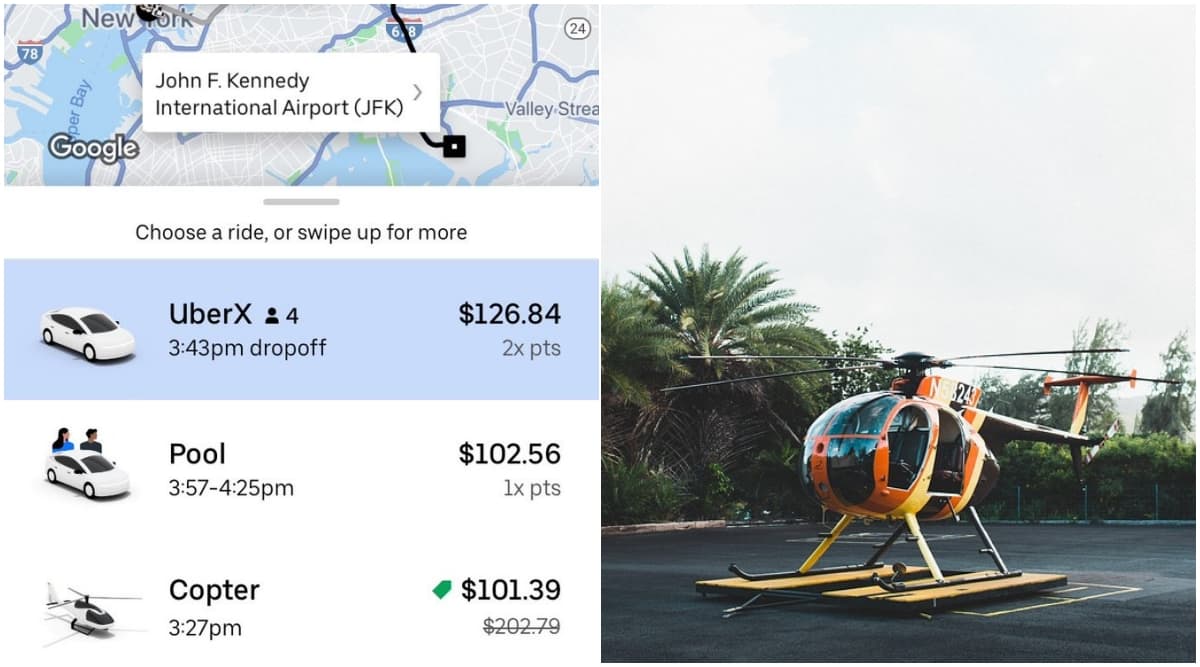 Traffic has been a major problem, no matter whatever city you are in these days. And it is an added pain when the prices of cabs add on the surge during peak hours. A New York City resident has got the best answer on her Uber to reach her destination, the John F Kennedy Airport. Her Uber app showed helicopter as the cheapest ride, compared to other car options! When she shared the screenshot on her Twitter, netizens were all up to ask her to take that ride! 200 People for 177 Cars? Old Tweet on Cities Without Vehicles Goes Viral Again on #FridaysForFuture.
Twitter user Nicole Johnson wanted to reach the JFK airport from her house and when she checked the Uber app, she got three options -- UberX, Uber Pool and Copter. Surprisingly at $101.39 it was the cheapest option among the other two. An UberX charged her $126.84, while the Pool option was $102.56. At one dollar less, was the copter ride. Haha! She posted the screenshot of this amusing rates on her Twitter account and it is now going viral. More people have commented, asking her to take the copter ride. Mumbai Police Tweets Video of Turkey Halting Traffic While Crossing in New Hampshire Road to Give an Important Message.
Check the Viral Tweet of Uber Ride Prices Here:
WHY THE FUCK IS THE UBER HELICOPTER THE CHEAPEST OPTION pic.twitter.com/sfemdDsoC0

— nicole loves harry (@nicoleej0hnson) December 23, 2019
Take it! Take it!
Take the helicopter!!!! You won't regret it!!!

— Kalen Allen (@TheKalenAllen) December 23, 2019
Someone can relate
Relatability level 1000

— feminist next door (@emrazz) December 24, 2019
Please Take This!
I don't know you and you don't know me but you need to do this for me

— Adam the Christmas baby (@thumbhook) December 23, 2019
Seriously?
A what !! A who !!! A HELICOPTER!!! pic.twitter.com/h75qc7At4z

— Valentine Baudelaire (@BasicallyUss) December 24, 2019
Does it Look Like This?
it probably like this pic.twitter.com/zUmK8t17gb

— bea (@brosisallowed) December 24, 2019
Even I Want
I wanna take an Uber helicopter LMAO 😂😂

— sleeping bébé (@bebesleep) December 23, 2019
So a lot of people wanted her to take the ride but she mentioned that she'd a big bag with her and copter would only take a carry on. Plus, a hundred dollars is quite expensive and she mentioned that she took a train to finally reach her destination. Some people were curious to know, how is the pick up in this case, since there can't be helipads everywhere. Well, taking a copter ride to the airport from NYC is an option nevertheless. So if you are really getting late and have money then take a copter before you take a flight!