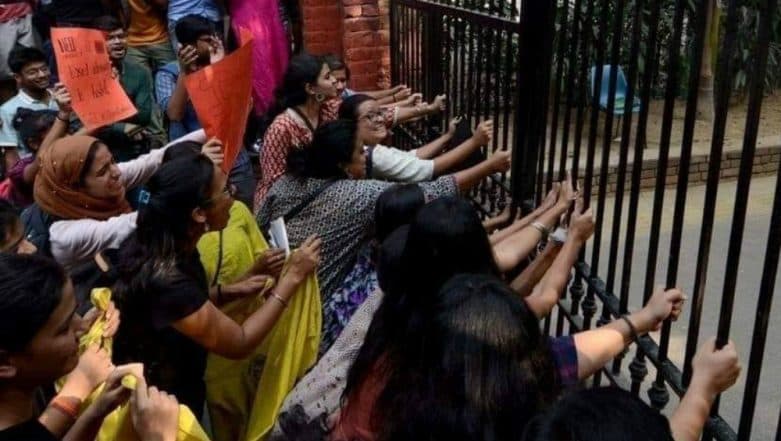 The National Institute of Technology (NIT) in Kurukshetra is recently appearing on the media outlets for various incidents. Students of the popular institute have recently garnered attention for gatecrashing weddings in the holy city. After the incident came into the spotlight, NIT issued a circular warning its students against similar activities. Now the institute has yet again drawn the attention of social media users for blatant sexist rules against the hostel girls. It is nothing, but the infamous hostel curfew timing. NIT Kurukshetra Kalpana Chawla Girls Hostel is now restricting girls to roam post 6:00 pm, those found not following will have to pay a hefty fine. The institute got trolled online after the hand-written note surfaced on the internet. NIT Kurukshetra Warns Students Not To Gate Crash Weddings. 
The image of the circular going viral on Reddit, is signed by the Chief Warden of the girls' hostel. According to the hand-written note, girls who would be found wandering within the premises after 6:00 pm would face disciplinary action. The circular reads, "After 6 pm heavy fine will be imposed on defaulters."
Here's the Hand-Written Note
Notice given to girls of NIT kurukshetra from r/india
It definitely did not go well by the netizens on social media, given the fact that hostel curfew timing is already an existing debatable issue in our country. Not many missed out the irony that a hostel named after Indian Astronaut Kalpana Chawla who is an inspiration for many across the world, and yet imposing such sexist rules on young girls. "Yeah… Just like Kalpana Chawla, who never dared to venture out!" reads one comment on Reddit. "Well it didn't work out well for her did it? She should have returned before 6 PM!" writes another.
As mentioned earlier, this is not the first case of unfair curfew timing on girl students. Such restrictions in several Delhi University hostels led to the Pinjra Tod movement with protests in the capital where women students took to the streets, demanding equal treatment.