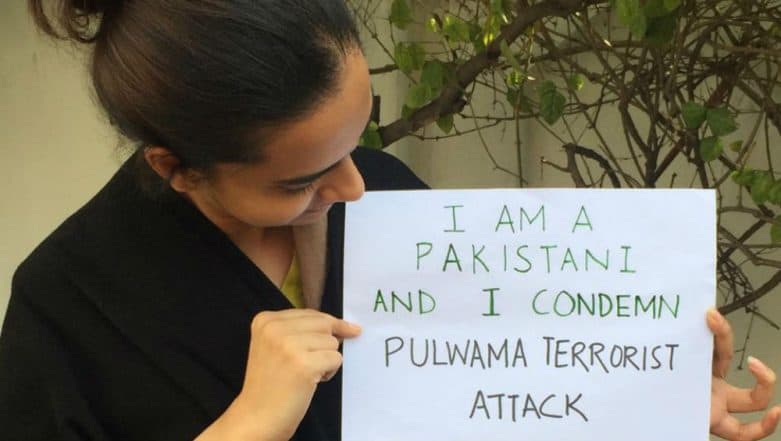 Islamabad, February 19: While Pakistan Prime Minister refused to condemn the Pulwama attack in his televised interview, Pakistanis joined a social media campaign to denounce the Jaish-e-Mohammed strike on a CRPF convoy. Pakistani journalist Sehyr Mirza on Tuesday posted a photo of herself on Facebook holding a poster condemning the Pulwama attack with hashtag #AntiHateChallenge. Subsequently, several Pakistanis followed the footstep of Mirza and condemn the act of terrorism.
"We're deeply disturbed over the tragic terror attack that claimed innocent lives in Kashmir. In such testing times, we need more sane voices to speak out against war and terrorism. We have initiated this #AntiHateChallenge to not only condemn the attack but also express solidarity with our Indian friends. Requesting Pakistani fellows, who share our feelings to please, join in," Mirza wrote in a Facebook post. "I won't trade humanity for patriotism," she said in another post. Imran Khan Responds to Pulwama Attack, Says 'Pakistan Will Retaliate If India Wages War'.
While condemning the attack on India's security forces, Mirza also spoke against war quoting English translation of couplets by famous poet Sahir Ludhianvi. Several Pakistanis then joined her campaign and posted pictures of theirs with a banner that says, 'I am a Pakistani and I condemn Pulwama terrorist attack'. Amarinder Singh to Imran Khan on Pulwama Attack: Nab JeM Chief Masood Azhar or We Will Do It For You.
Below is the post of Sehyr Mirza who started #AntiHateChallenge campaign:
40 CRPF personnel were killed when their convoy was targeted on the Srinagar-Jammu National Highway on February 14. The convoy comprised 78 buses in which around 2500 personnel were travelling from Jammu to Srinagar. Soon after, Jaish-e-Mohammed (JeM), which is based in Pakistan and backed by the Pakistani administration, claimed responsibility for the attack.
Pakistan PM Imran Khan on Tuesday, however, claimed that there was 'no evidence' about Pakistan link and that India was being 'judge, jury and executioner'.