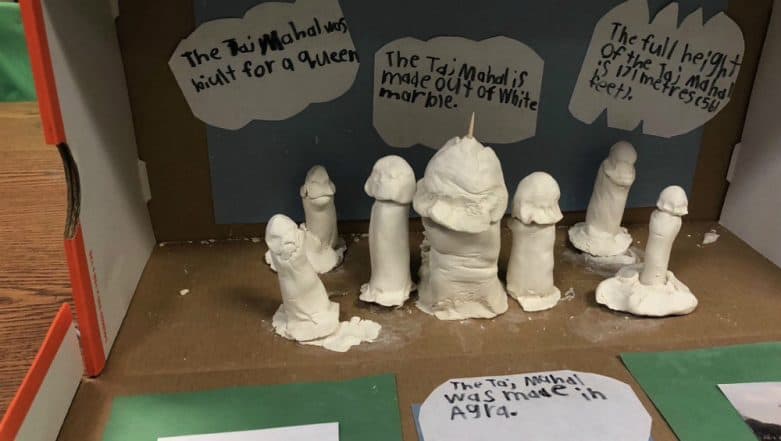 There is a reason that today people are all captivated on social media sites. The Millennial and their side-splitting humour can never be ignored. Every now and then, something or the other gets viral online and the reasons vary. So, when a teacher shared the outcome of her school kid who made Taj Mahal out of clay, Twitter could not, yet again, control their wit. The innocent attempt, resulted in a penis-shaped Taj Mahal Minarets and needless to say, Twitter perverts began to giggle over the viral pic. Dharavi Slums More Popular Than Taj Mahal? Tour of Mumbai Slums Beats the Agra Mausoleum in 'Top 10 Traveller's Choice Experiences 2019- India.'
The Twitter user, Lori Mintzer (@lori_mintzer), apparently gave a project to her school kids to make the Taj Mahal out of clay. However, one of the kids innocent attempt, turned into a hilarious outcome. The student even noted important points behind the marvellous monument, with sticky notes surrounded by it, but the penis-shaped minarets took all the attention of Twitterati. Taj Mahal New Rules for Visitors: Tourists Spending More Then 3-Hour to be Charged Additional Fee. 
Penis-Shaped Taj Mahal Minarets
So one of the students at my school tried to build the Taj Mahal out of clay and... pic.twitter.com/lamHxGwrzw

— Lori Mintzer (@lori_mintzer) June 22, 2019
Naturally, Twitterati will have their dirty minds talking. While, some shared their reactions with hilarious GIFs, other pitied Mughal Emperor Shah Jahan, who may have never expected such depiction.
Check Out Hilarious Reactions!
— Woke Fauxy Raja babu 🌈 (@GaurangBhardwa1) June 23, 2019
Everyone on Twitter Today!
— Vicky (@AngryBird_5000) June 24, 2019
You Bet, It Was
close enough

— Manish (@oharajules) June 24, 2019
Was It?
Shah Jahan's original design.

— K RAGOTHAMA (@KRagothama) June 24, 2019
Meanwhile, Indian Teachers Be Like
When teacher see this project: pic.twitter.com/llB3q9inbp

— Jai Sharma (@jai6233) June 24, 2019
Mughal Emperor Shah Jahan, built the wonder in the loving memory of his love, Mumtaz Begum, around 1632-53. Ever since then, the beautiful ivory-white marble mausoleum has only gained popularity and every year draws millions of visitors and tourists in the Indian city of Agra.