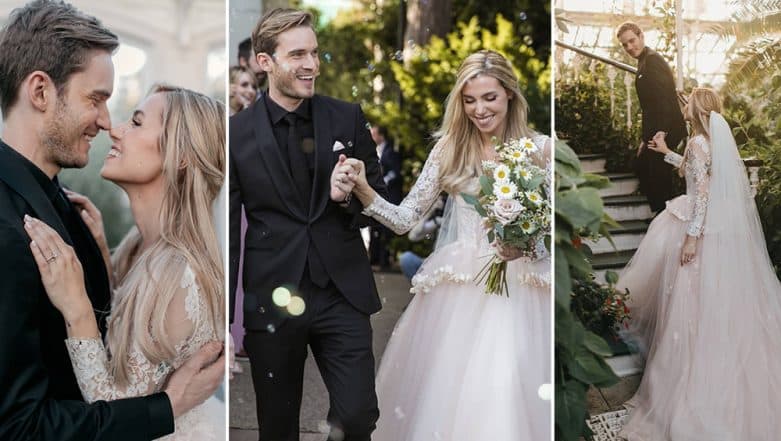 Felix Arvid Ulf Kjellberg better known as PewDiePie on social media is finally married to her long-term girlfriend Marzia Bisognin. Amidst his battle with T-series to become the most subscribed person on YouTube, PewDiePie's wedding pictures are breaking the internet. The YouTube star announced on Instagram, that he is finally hitched to Marzia Bisognin, and the news is so big that it is almost unbelievable. However, we have evidence. PewDiePie shared three pictures from his nuptials that are as dreamy as they can get. The three pictures he shared broadly summarises their wedding ceremony. In the first picture, he can be seen holding Marzia very close to him as if he is almost about to kiss her. PewDiePie Defeats T-Series As Most Popular Channel After YouTube Deletes Spam Subscribers.
In the second picture, the gorgeous couple can be seen walking in the aisle looking like the happiest couple alive. We've surely never seen PewDiePie this happy before. The third picture shows Felix holding Marzia's hand and taking her up a beautiful staircase. He captioned the wedding pictures saying, "We are married!!! I'm the happiest I can be I'm so lucky to share my life with this amazing woman." PewDiePie & T-series Battle! YouTuber Felix Kjellberg Raises Over Rs. 1.3 Crores for Indian NGO CRY in a Day.
Check out the pictures:
We wish PewDiePie & Marzia Bisognin all the very best for their future endeavours and may all their wishes come true. However, if miss out PewDiePie's epic battle with T-series, you might want to definitely update yourself, it's better late than never.