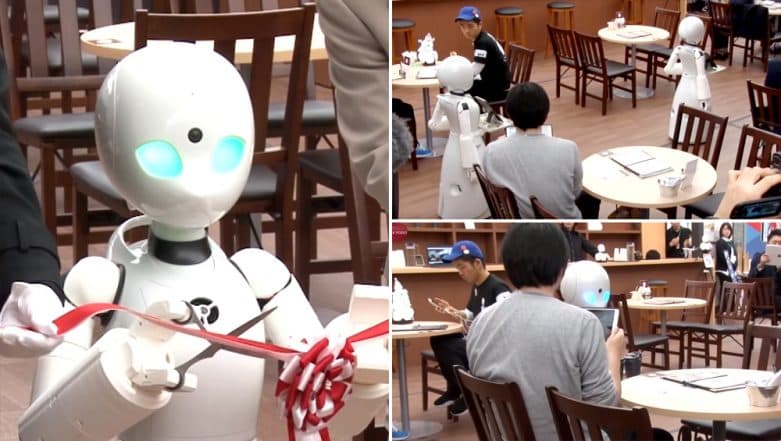 Robots will serve as waiters in a Tokyo cafe for people with physical disabilities. These robots measure 1.2 meters tall and are controlled by y people with conditions such as amyotrophic lateral sclerosis (ALS), a form of motor neuron disease. It takes orders and serves food to people. The cafe opened on Monday on a trial with one of the robots cutting the ribbon during the inauguration ceremony. The cafe will be officially opened on December 7.
Japan Times quoted Kentaro Yoshifuji, CEO of Ory Lab Inc., the developer of the robot as saying, "The robots enable physical work and social participation." Ten people with ALS will earn ¥1,000 (approx Rs 622) an hour controlling the robots. Jimmy Fallon Sings 'Say Something' With Robot Sophia on 'The Tonight Show' (Watch Video)
By 2020 Tokyo Olympics and Paralympics, three entities, including the Nippon Foundation and ANA Holdings Inc., aim to launch a permanent cafe. The organizers on Monday said that they have planning to further promote employment assistance for people with disabilities by using controlled robots.  ANA Holdings Chairman Shinichiro Ito said, "(Avatar robots) have potential … for transportation and communication.
Watch the video of robots serving customers in the cafe:
Robot servants are very common in Japan and China. Earlier this year, two guys started a 'robot-themed restaurant' in Chennai making national headlines. The robots could understand Tamil and English and served food to customers. There has also been a rise in the use of robots for daily chores. They are increasingly becoming a household name in the west with speed being their USP.