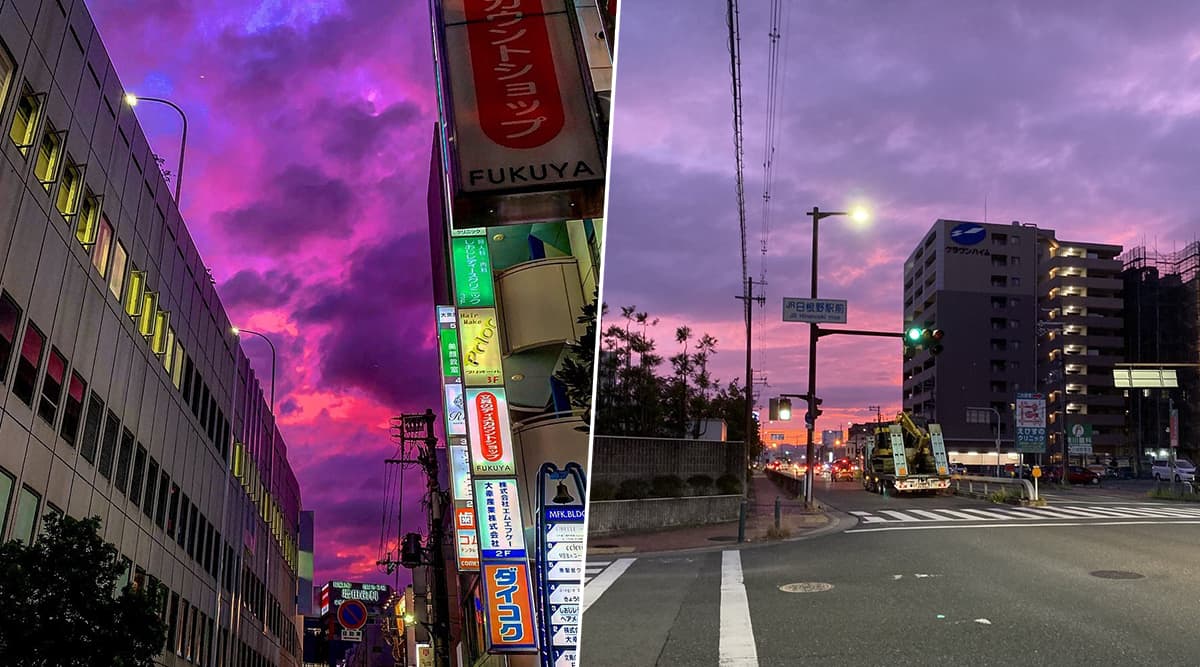 In some unfortunate piece of news, Japan's Meteorological Agency (JMA) has confirmed that Typhoon Hagibis has already made the expected landfall near the Izu Peninsula in Shizuoka, south-west of Tokyo. This occurred before 7:00 pm local time on Saturday. This Typhoon is said to the worst storm in over 60 years and before that, Japan residents are posting scary images of purple skies online. The purple skies are said to be an indication of a typhoon or hurricane about to hit the place.
Authorities have urged the people of central Japan to evacuate their homes as soon as possible on Saturday. However, as per reports by abc.net, one man died, and five people are injured when wild storms crashed into Chiba. The Typhoon is said to be of a category five hurricane of an approximate size of 1,400 km in diameter. It is predicted that the wind gusts would be over 240km/h. It also estimated that the worst affected area would be the main island of Honshu. The Typhoon is named Hagibis because it translated to "speed" in Tagalog.
What Does Purple Sky Mean?
Skies turning purple may seem extremely scary and make, people believing in superstitions, think that the skies are trying to indicate something ominous. It is not entirely wrong, and the skies do try to suggest something dangerous such as a typhoon or a hurricane. However, there is scientific backing to it. The skies turned deep violet in colour because of a weather phenomenon called "scattering". When the molecules and small particles in the atmosphere influence the direction of the light, it causes light to scatter and present a purple colour view.
Here's a Video Of The Storm
I just heard that the Century's Strongest Super-Typhoon Hagibis Is About To Hit Japan .The sky in Japan turned purple 😥 and this is just a trailer of things to come #PrayForJapan pic.twitter.com/9foo0BKUlF

— THE WRITING DJ™🇳🇬 (@thewritingDJ) October 12, 2019
People are using Twitter to share videos and pictures of the purple sky and Typhoon along with prayers for Japan. Here are some of the photos and videos:
#TyphoonHagibis turned the skies purple. Be safe friends in Japan. pic.twitter.com/iUiYRz2k9O

— blake (@BlakeMist) October 11, 2019
People Are Scared
I was searching for the meaning of purple sky just now. So, please pray for Japan because nothing is impossible and maybe fate can be turned out the opposite way. #PrayForJapan pic.twitter.com/J83V1t8dqk

— anjaliee (@aanjalieesam) October 12, 2019
Skies in Osaka
The sky turned purple today in Osaka. #TyphoonHagibis #myfirsttyphoon pic.twitter.com/H1tFFDXade

— Aled Evans (@AledDreamState) October 11, 2019
Pray For Japan
"In Anime, the purple sky & clouds means DEATH, DEPRESSION, SADNESS"#PrayForJapan pic.twitter.com/Q69yDQXojU

— 𝕙𝕩𝕟𝕖𝕪𝕓𝕖𝕖 (@Xyline9) October 12, 2019
Kyoto
Kyoto last night: purple skies in the quiet before #TyphoonHagibis pic.twitter.com/37xdBYHv8Y

— Sophie Ray (@CockayneSophie) October 12, 2019
The Pictures Are Everywhere
LOOK: The sky in Japan turned pink hours before the wrath of Super Typhoon 🙏🙏

So, I search for the meaning of a Purple Sky? And i found out that... 😭🥺🙏🏻#Hagibis#PrayForJapan pic.twitter.com/h2isOgPIfe

— Wency (@sengdayritt) October 12, 2019
A few hours ago, an earthquake measuring 5.1 on the Richter Scale struck the main island of Japan as Typhoon Hagibis approaches. The epicentre of the earthquake was located in the Pacific Ocean off Chiba Prefecture, close to major cities such as Tokyo and Shizuoka.