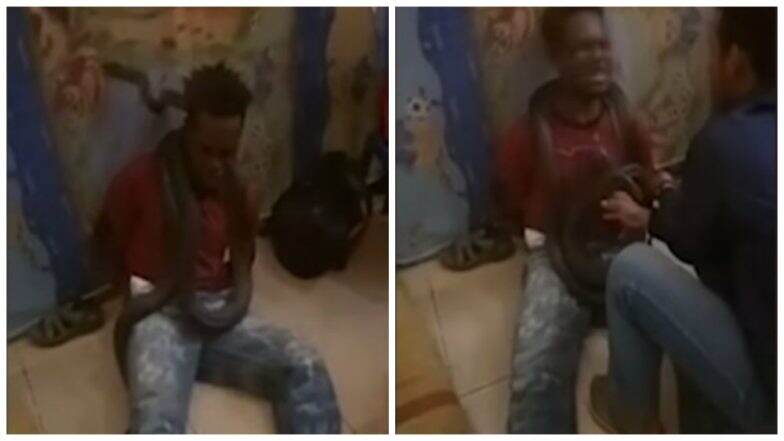 Police forces across the world are known for using nasty techniques in order to obtain confessions. However, in a video going viral, the Indonesian police can be seen using a snake in order to scare a suspect. Cobra Snake Caught in Mayurbhanj District of Odisha, Watch Video of 19-Feet-Long Serpent.
The Indonesia police's act has come under huge criticism after the video surfaced online. Snake on Ceiling Fan Inside Local Train in Mumbai, Commuters Panic (Watch Video).
The video is gaining outrage over the fact that one of the officers can be seen laughing in the video as another officer puts the snake over the suspect, who is handcuffed.  King Cobra, 17-feet-long Found in Odisha: Video of Rare Deadly Snake Warded Off To Nearby Jungle in Mayurbhanj.
The incident took place in the country's eastern Papua region.  Cobra Attacks Dogs in Odisha: Heartbreaking Video of Mother Fighting With Snake to Save Her Puppies Goes Viral.
Reports said that police believed that the suspect had stolen mobile phones. Selfie With Cobra Turns Fatal: Man Tries to Put Snake Around his Neck, Dies After Snake-bite in Andhra Pradesh, Watch Video.
However, the local police chief defended the police with a mild criticism and called it "unprofessional." Reports said that the police claimed the snake was non-Venomous. However, the man is seen screaming in terror. Six-Feet-Long Cobra Enters BMW GT, Tamil Nadu Businessmen Get Their Luxury Car Dismantled to Remove It (Watch Video).
Watch the Video of the Snake Below:
Veronica Koman, the human rights activist tweeted the video of the event. She had claimed that the police had wrongfully locked a human rights activist in the jail.
Some users on Twitter also pointed out that a voice in the video can be heard warning the suspect of "putting the snake in the mouth and trousers of the man." The Indonesian police has reportedly apologised for the event after the outrage it faced on social media.