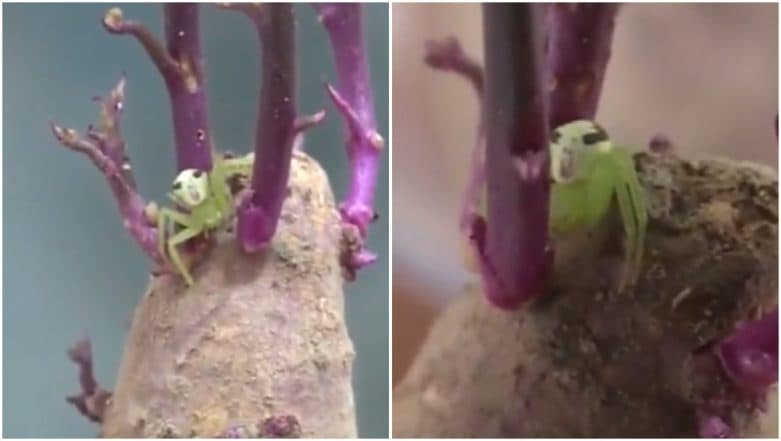 Multiple times in the times, pictures and video of unusual-looking spiders have gone viral on social media. And the recent one to have swept across social media is of a spider with a human-like face! Yes, internet users are of the opinion that the spider has a human face on the back of its head. People expressed their astonishment on seeing the rare-looking spider. 'Sushi' Spider Baffles People Online: Sydney User Shares Picture of Bizarre Eight-Legged Resting in His Home.
According to a report in China Daily, the spider was spotted inside a woman's house in China's Hunan province. It was seen crawling on a potted plant inside her house. The woman surnamed Li  Li said that the spider has black hair on is legs and it resembles human hair. It is said that the spider is poisonous and dangerous as any other arachnids. The video went viral after it was posted online by People Daily China. After being shared on Tuesday, is has spread widespread reactions on Twitter. As video of the arachnid went viral, people took to Twitter calling it 'New Spider-Man' in town. Incy Fancy Spider! Newly-Discovered Arachnid Named Karl Lagerfeld Due to Its Uncanny Resemblance with the Late Fashion Designer.
Watch The Video of Spider With Human-Like Head Here:
Has spiderman been found? This spider with a humanlike face on its back was found at a home in C China's Hunan and has gone viral on Chinese social media. Do you know its species? pic.twitter.com/0iU6qaEheS

— People's Daily, China (@PDChina) July 16, 2019
In a similar incident, video of a spider with a human face had gone viral on social media. The video was captured at the house of Vipul Balari from Koliya area in Assam. As the news of this creature spread, people from different areas came to his house to catch a glimpse of the spider. Last year, Dhruv Prajapati, a spider expert from Gujarat had discovered a new species of jumping spiders in Kerala. It had a distinct pattern on his head and shape of eyes.